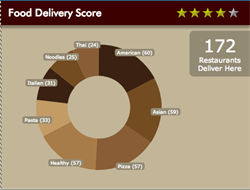 As sophisticated renters compare apartments, quality-of-life factors beyond price -- amenities, access to public transportation, proximity to parks, and convenient access to great food -- are becoming primary considerations.
New York, NY (PRWEB) October 30, 2013
Apartment ratings and data site Rentenna launches its "Food Delivery Score" as another way for apartment hunters to compare their rental options. The 5-star scale grades apartment rentals on both the number and variety of food delivery options available at a particular address.
To develop the Food Delivery Score, Rentenna indexed over 50,000 restaurants across the U.S. that offer delivery, then cross-referenced the index against its database of hundreds of thousands of rental properties. According to the index, the top 5 cities for food delivery include New York City (over 10,000 restaurants offering delivery), Chicago (over 4,000), Los Angeles (over 3,000), Boston (over 2,500) and San Francisco (over 2,500).
According to Rentenna's analysis, however, food delivery options can vary dramatically by neighborhood and even by the block. Hence the site's Food Delivery Score is calculated on an address-by-address basis.
Already the feature is seeing high levels of engagement from Rentenna users, which continues a trend for renters in general:
"More and more Americans are making a deliberate, long-term decision to rent in urban areas rather than gamble their net worth on buying a home deep in the suburbs," says co-founder Alicia Schwartz. "As these sophisticated renters compare apartments, factors beyond price are becoming primary drivers of their decision-making: Quality-of-life concerns like building amenities, access to public transportation, proximity to public parks and green spaces, school system quality, and even convenient access to great food are major considerations for renters searching for their next apartment."
To complement the release of the Food Delivery score, Rentenna is launching a series of "Food Delivery Heatmaps" -- most recently Chicago, DC and Boston. The heatmaps highlight neighborhoods that enjoy the greatest volume and variety of food delivery options in each city. Heatmaps for Washington D.C., Los Angeles, San Francisco and New York City are slated for release in November.
Headquartered in NYC, Rentenna has gained increasing awareness among renters for its city-specific apartment rating system, beautiful interface, and ever-expanding database of accurate listings. In acknowledgment of its innovations in bringing greater transparency and context to the apartment search process, the startup was named a 2013 Webby Awards Honoree in the real estate category.
About Rentenna
Rentenna's apartment rating algorithm analyzes data on hundreds of thousands of buildings and over 1 million historical listings to grade individual rental buildings on a scale of 1-100. Like a Zagat guide for apartments, Rentenna's ratings help apartment seekers easily identify rentals that not only fit their budget, but also their individual lifestyle requirements. Rentenna has been covered in The Real Deal, Inman News, Crain's, The Village Voice, The Wall Street Journal, The New York Times, Boston Magazine, Curbed, Bostinno, Thrillist, and dozens of other major and local publications. Rentenna was named both a 2013 Webby Awards Honoree and to AGBeat's "60 Genius Brands to Watch" list.