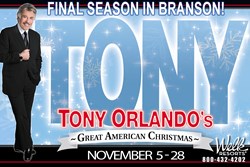 Branson, MO (PRWEB) October 29, 2013
Tony Orlando, in his 20th and final season in Branson, brings his incomparable energy and talent to the Welk Resort Theatre with his acclaimed Christmas show, Tony Orlando's Great American Christmas. From November 5 through November 28, in a 18 show limited engagement, Tony will sing all of your holiday favorites and will also include his greatest hits from over 50 years in show business; "Candida", "Knock Three Times", "Tie a Yellow Ribbon", "Sweet Gypsy Rose" and more. Then, Santa pays a visit and Tony and Santa honor the true meaning of Christmas. It's a Branson must see and a perennial family favorite.
Tony has announced that this will be his final Christmas season in Branson. "Branson is my home and I love being part of the community. After 20 years, I just feel it is time to take The Great American Christmas Show out to America", says Orlando. Tony will continue his touring schedule with appearances at Performing Arts Centers and Casinos throughout the USA and Canada. "We are so excited and proud to have had such a legendary entertainer in our theatre for Christmas," says Dathan Atchison, General Manager of Welk Resort Branson. "There is no one like Tony!"
Click Here for tickets & more information.
In 1973, he recorded "Tie A Yellow Ribbon 'Round The Ole Oak Tree." The song was number one for the year, became Orlando's theme song and grew into an American anthem of hope and homecoming, reunion and renewal. November 11th at 2pm, Tony will also host his 20th Yellow Ribbon Salute To Veterans, a star studded salute, free to all military past and present.
For more Branson information, click here.
Tony Orlando remains one of America's best-loved personalities. No entertainer can move and excite an audience like Tony Orlando. Tony brings to the stage a warmth and an exhilarating energy which is electric. From million selling records (five number one hits), a popular television series, (Tony Orlando and Dawn Variety Show), movies and Broadway (Barnum and Smokey Joe's Café), Tony Orlando has conquered every facet of show business. He has been a recipient of three American Music Awards, and a People's Choice Award and has performed for five U. S. Presidents. For his outstanding achievements to the entertainment industry, Tony was awarded a star on the Hollywood Walk of Fame in 1990. He is a popular headliner in Las Vegas, Atlantic City, Reno, Biloxi and Laughlin. He maintains a touring schedule with appearances at Performing Arts Centers around the country. Tony has also been named Branson's Entertainer and Vocalist of the Year.
For personal Branson vacation planning call 1-800-432-4202.