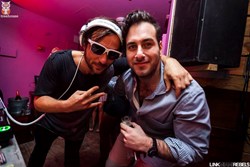 Miami, FL (PRWEB) November 02, 2013
Philipp Jung of Get Physical Music hypnotized the crowd in Miami sporting his Reeva's. M.A.N.D.Y is a Berlin-based Microhouse, minimal house, techno group consisting of Patrick Bodmer & Philipp Jung. They are cofounders of Get Physical Records, along with Booka Shade and DJ T. Philipp, a notorious eyewear trendsetter and long time friend of Zoe Nightingale of the Monocle Order note quality, comfort and style is the vehicle driving Reeva but its house spark is what's guiding the soul that guides this vehicle into the right hands. Philipp, a minimal house legend, philanthropist, and eyewear monocle of the Monocle seen here captures the energy at Treehouse that night.
About Reeva
Miami based eyewear company bred into an underground music phenomenon. Reeva searches for unique artists throughout the world and is the official pioneer of EDM eyewear. Reeva strides firmly to the unconventional, capturing always the essence of genuine, individual expression. Reevas mission is to produce & distribute high quality eyewear and innovative designs at competitive prices. All glasses are entirely handmade in Italy, compose of unique styles, feature tailored looks, transcendent lenses and give off good vibes.