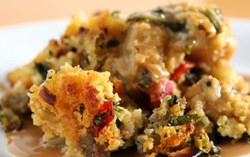 (PRWEB) October 30, 2013
Live Maine lobster delivery service, GetMaineLobster.com, is in the holiday spirit and is offering a new take on the American classic with its Thanksgiving seafood stuffing recipe. The Holiday Lobster, Mushroom and Leek Stuffing is a great alternative to this Thanksgiving staple and will have family and friends coming back for a second helping!
Ingredients include the diced lobster meat from two Maine lobster tails, one-and-a-half cups of hot water, a half ounce of dried mushrooms, one pound of sliced shitake mushrooms, one pound of sliced cremini mushrooms, two sticks of butter, one-and-a-half cups of diced leeks (use the lighter green and white parts only), six cloves of minced garlic, one-and-three-quarter cups of white wine, one ounce of brandy, one ounce of sherry, one tablespoon of minced thyme, 16 ounces of diced baguette, one beaten egg, and salt and pepper to taste.
To prepare, preheat the oven to 350 degrees and pour the hot water over the dried mushrooms for 30 minutes. Remove the mushrooms from the water and finely chop them, saving the liquid. In a large sauté pan over medium-high heat, melt the butter and add the shitakes and cremini mushrooms. Cook for five minutes until they start to develop a nice color and release the liquid. Next, add the leeks and garlic and cook for another five minutes until aromatic and softened. Then, deglaze the pan with white wine, brandy and sherry. Add the chopped dried mushrooms and thyme and cook until the majority of the liquid has evaporated. Turn off the heat and add the lobster tail meat and toss to combine.
Transfer the mixture to a large bowl and mix in the bread. Season to taste with salt and freshly ground black pepper before mixing in the egg. Then, transfer the mixture into a glass baking dish that has been greased well with butter or cooking spray. Add one cup of the reserved mushroom liquid to moisten the mixture and bake uncovered for 40 minutes. Remove from the oven and let sit for 10 minutes before serving this delicious Thanksgiving seafood stuffing for your holiday gathering!
Browse Get Maine Lobster's wide range of seafood offerings, access other Maine lobster recipes or view current seafood specials for delivery by visiting GetMaineLobster.com or call (866) 562-4817. Stay updated and Like us on Facebook or follow us on Twitter.
About GetMaineLobster.com
GetMaineLobster.com, a division of Black Point Seafood and Black Point Gourmet, hand-selects the finest Maine lobster, seafood and beef products for convenient distribution throughout the United States. Their passion is to make fresh, quality seafood readily available to customers across the country, which is why they buy from only the most trusted, well-established suppliers to ensure that they receive the finest products available.
GetMaineLobster.com was selected out of the more than four million small American businesses served by Chase bank to represent its new Platinum Business Checking product for its 2013 national advertising campaign.