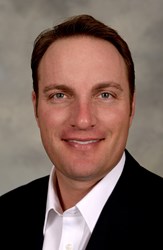 The opportunities that lie ahead for Wise Company are tremendous and I look forward to guiding the organization to take full advantage of these.
Salt Lake City, Utah (PRWEB) October 30, 2013
Wise Company, one of the top revenue producers in the growing $300 million food storage and emergency food market, has appointed Aaron Jackson as CEO of the Salt Lake City, Utah-based company. Jackson, formerly the company's president, replaces company founder, Brian Neville who had held the CEO position since the company's founding in 2009. Neville will continue as an adviser for the company.
Jackson joined Wise Company as president in April of 2013, charged with optimizing the company's growth and revenue through market expansion and production enhancements. His promotion to CEO will further build on the successes he has implemented to date, while positioning the company for significant growth opportunities during the coming years as the awareness of and demand for emergency foods continues to increase.
"In the short time Aaron Jackson has been part of Wise Company his wisdom and skills have significantly and positively impacted the organization," says Brian Neville, Founder and former CEO. "The company couldn't be under better leadership as it moves into the next phase of market development and product expansion."
"I am truly excited and honored to be part of such a dynamic, growth-oriented organization," says Aaron Jackson. "The opportunities that lie ahead for Wise Company are tremendous and I look forward to guiding the organization to take full advantage of these."
Prior to joining Wise, Jackson served as Vice President of Sales at MOM Brands (formerly Malt-O-Meal, Inc.), a major U.S. producer of breakfast cereals and snack foods. Jackson led teams focused on growing business with national retailers. During his tenure at MOM Brands, he played a key role in doubling the size of annual revenues, and today MOM Brands is the fastest growing company in the categories in which they compete.
Before his tenure at MOM Foods in 2002, Jackson served in several key roles at Tyson Foods, a Fortune 100 company.
Jackson is active in several industry associations including the California Grocers Association, Arizona Food & Marketing Alliance and Illuminators, a non-profit organization dedicated to serving the grocery industry through education.
About Wise Company, Inc.:
Wise Company, headquartered in Salt Lake City, Utah, is a leading supplier of high quality, innovative dehydrated food and freeze dried food products for emergency preparedness and outdoor use. Wise Company provides great tasting, high quality foods that have been purposely manufactured and packed be prepared quickly and easily. Wise markets its products through a robust internal sales force that sells to channel partners, including retailers and distributors, and direct-to-consumer through its in-house sales force. For more information and a complete list of product offerings, visit http://www.wisefoodstorage.com.