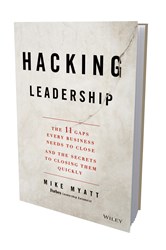 New York, New York (PRWEB) October 31, 2013
Leaders at every level and in every type of organization can benefit from a webinar based on Mike Myatt's upcoming new leadership title, "Hacking Leadership," on Tuesday, Nov. 5, at noon (Eastern Standard).
Myatt is a Forbes leadership columnist and CEO at N2growth. His first book, "Leadership Matters: The CEO Survival Manual" (2007) has been hailed as a top title in the field, and he has been recognized by Thinkers50 as a global authority on leadership.
In the webinar, Myatt will introduce the concepts explored in his latest work, "Hacking Leadership: The 11 Gaps Every Business Needs to Close and the Secrets to Closing Them Quickly" (Wiley, ISBN 978-1118817414), scheduled for a Dec. 16 release. "Hacking Leadership" will equip leaders at every level with a framework for identifying blind spots and bridging gaps in the critical areas of leadership, purpose, future, mediocrity, culture, talent, knowledge, innovation, expectation, complexity and failure.
"The ideas in Mike Myatt's 'Hacking Leadership' will challenge you—but they are achievable and waiting for you to put them into action," says Ken Blanchard, coauthor of "The One Minute Manager" and author or coauthor of numerous other works.
Hosted by Becky Robinson of Weaving Influence, the webinar is free and open to all, although preregistration is required. Those wishing to attend can click here to register today.