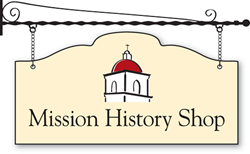 San Rafael, California (PRWEB) October 30, 2013
The Spanish colonial missions are an exciting and romantic part of the history of California, from San Diego, where the first mission was founded in 1769, all the way north to Sonoma, with its charming square and wine country culture.
Mission History Shop celebrates this extraordinary cultural and religious heritage. It brings together the widest selection of products that celebrate the missions of California, as well as those in New Mexico, Texas and Arizona.
"We created Mission History Shop to meet the needs of history buffs, collectors, and students – and to bring together all the information and products related to the missions in one place," said Andre Shashaty, the writer and journalist who founded the shop after volunteering for nonprofit mission preservation organizations.
At Mission History Shop, shoppers will find these collectibles and souvenirs:

Porcelain miniatures with remarkable detail for each of the California missions, in two sizes.
Hand-painted ceramic tiles depicting missions of California, Arizona and Texas, suitable for framing and collecting.
Christmas ornaments and refrigerator magnets in the shape of the California missions.
The site is of special interest to parents and teachers. It sells books for students studying the missions, as well as educational toys for children. It offers easy-to-assemble foam core models of each of the missions.
The shop is located at http://www.missionhistoryshop.com
In addition to collectibles and educational items, it also sells accessories for Spanish style homes and vintage home decor as well as handcrafted jewelry, including Mexican silver and Spanish Damascene earrings.
Mission History Shop is based in San Rafael, California, just north of San Francisco. San Rafael is the location of Mission San Rafael Archangel, the 20th California mission, founded in 1817.
"If you are looking for a unique gift for a friend, a parent or your spouse, check out Mission History Shop," Shashaty said. "It has the most complete selection of mission-related items you can find."
For more information, call (800) 483-1904 or go to http://www.missionhistoryshop.com.