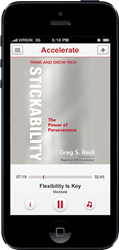 New York, NY (PRWEB) October 30, 2013
Mind Cures, LLC, an innovative digital publishing and mobile development company, released the Think and Grow Rich Stickability accelerated learning app on October 22, 2013. The app brings the key principles of the international best selling book of the same name from The Napoleon Hill Foundation and Greg Reid to audiences anytime and anywhere. The groundbreaking accelerated learning through meditations app Zoomed to #1 in the Philippines and #38 in the USA and has been downloaded in over 20 countries in iTunes. 
During the 60-day promotional offer period, consumers can purchase the app, including all 12 custom accelerated learning meditation audio files (120-minutes) covering the book's chapters for the introductory price of $1.99 from the iTunes app store and learn how to apply the proven and powerful self-motivational techniques in the book to achieve any goal and persevere even in the most difficult of times. 
Link
The app is available for download here:
Think and Grow Rich Stickability App
"We are extremely proud that our first Hero Learning app has been so well received in the marketplace. By combining meditations, books and apps we are bridging a gap between wisdom and the next generation of "on the go" professionals that rely so heavily on apps for their information and knowledge," says Mind Cures CEO Evan Gappelberg. "The HeroLearning program was created for people who want to achieve success and get ahead in life but don't have a lot of time to read. With the Think and Grow Rich Stickability app and the many soon to be released book apps in development, we've broken new ground by creating a short and concise accelerated learning program, which focuses on the book's principles only and uses scientifically-proven methods of condensed knowledge, guided meditation, audio listening and repetition to improve learning. Downloading this book in an on-the-go app format makes allot of sense for people with busy schedules."
With the success of this app Mind Cures is preparing to launch a full line of meditation book apps focusing on "best selling" self-help authors like Jack Canfield.  "Now that our platform has been established we can roll out many classic self help audio book apps very quickly," explains Wilson Christopher, Mind Cures Co-Founder. "The audio app does all the work for you, just relax,listen and learn." It's designed with Hero Universe's patented meditation technology, "so anyone can enjoy the benefits of meditation to accelerate their learning, immediately apply the principles introduced in the book to their daily lives, and achieve better life results quickly." 
This new line of audio apps empowers users to achieve financial prosperity, better health, stronger relationships, greater purpose, and more success through a life-changing system that combines the proven set of principles from The Napoleon Hill Foundation and Greg Reid's groundbreaking book with the cutting-edge meditations, accelerated learning, and the mobile accessibility of Mind Cures' Hero Universe app.
About Mind Cures, LLC
Mind Cures, LLC is a digital publisher and mobile application developer with a growing collection of innovative self-help, meditation, and hypnosis apps offered through its Hero Universe brand of products. Its flagship product, HypnoHero, uses a dynamic question and answer process, combined with technologically-perfected voices, to deliver customized hypno-meditation sessions on over 650 self-help topics. HypnoHero was developed with Mind Cures' patented "Write Your Own" technology, which enables users to create personalized hypno-meditation experiences by typing any messages they want to hear while under hypnosis.
Mind Cures also licenses books from the most recognized self-help authorities in the world and offers them as audio apps, which combine the key principles in each book with the HeroLearning personalized meditation technology for an accelerated learning experience. All Mind Cures applications from the Hero Universe family of products are available through the iTunes app store. 
Learn More:
Think and Grow Rich Stickability App
Website
HypnoHero App
Press Contacts:
Evan Gappelberg
Mind Cures, LLC
(631) 655-6733
Evan(at)mindcures(dot)com
Wilson Christopher
Mind Cures, LLC
(646)-463-3550
Wilson(at)mindcures(dot)com