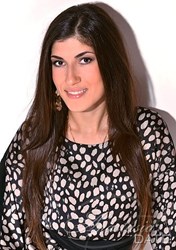 (PRWEB) October 30, 2013
AnastasiaDate, the popular online international dating service, has prepared itself for an extremely busy Christmas, when over 4 million members will log on in the hope of enjoying new romance during the festive season.
With only eight weeks until the festive season arrives, AnastasiaDate is fully prepared for the busy months ahead. Christmas is a time when many people prefer not to be single. Instead, they have a desire to reach out and connect with someone special. With over 4 million members, and new members joining every day, this winter is set to be the busiest ever for AnastasiaDate.
The company recently completed a whole range of successful improvements to its website, and member services, in preparation for the rush during the festive season. November, December, January and February have historically been the busiest months of the year for the company, and it expects the same this year too. The company believes that the long cold nights which can get lonely for single people is why online dating always increases in popularity during winter. AnastasiaDate has worked hard to ensure it can provide its much loved service to all its members exactly when they need it.
In addition to a beautifully designed website, members have access to a wide variety of exclusive services so they can enjoy online dating at it very best. The website is famous for being host to some of the most beautiful ladies and handsome men in the world. And AnastasiaDate has a reputation for providing the perfect platform where romance and love can blossom across the miles.
Last year, the company learned of a number of engagements during the festive period, and was delighted to hear news of many stories of love. This year AnastasiaDate is expecting to hear more good news as members share their stories of online romance. The company understands how difficult it is to find real love today. People have such busy lives, and often, careers can leave very little time for romance.
AnastasiaDate has positioned itself as a leading light within the world's online dating industry, by providing an exclusive service to all its members. They can relax and enjoy safe and secure online dating, on an excellent platform which has been developed by the greatest talents in online dating and web development.
For over twenty years, the company has successfully harnessed the power of technology to help wonderful people find romance. They can log on and connect with each other, make new friends and lasting relationships, all at the touch of a button. Because the service is so exclusive, and the services are of the highest quality, it attracts the finest people. While other dating sites seem to be full of less than desirable characters, AnastasiaDate.com is the place to be to meet beautiful, dazzling ladies, and handsome and successful men.
The company is looking forward to giving all its members a very happy Christmas and a romance filled New Year!
About AnastasiaDate
AnastasiaDate is the leading international dating service that facilitates exciting and romantic companionship with beautiful and interesting women from all over the world. Founded in 1993 by a Russian-American couple, AnastasiaDate now has over 4 million international users and attracts more than 10 million online visits monthly. Additionally, over 1.5 million conversations are exchanged onsite daily. AnastasiaDate is committed to member safety, customer satisfaction and the on-going pursuit of innovation.
Headquartered in Moscow and New York with additional representation in every country it touches, AnastasiaDate provides a high level of customer service to a worldwide clientele. AnastasiaDate users are able to communicate across a variety of top-notch multimedia platforms, including video chat and a mobile app for Android devices available in the Google Play store.