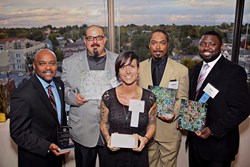 "Everything I learned about how to be the Mayor of Denver, I learned from John Parr." - Mayor Michael Hancock upon receiving Parr-Widener Award
Denver, CO (PRWEB) October 30, 2013
"Community Leader" is not a designation that can be self-ascribed. Leadership is recognized when a person's actions inspire others. Each year, The Denver Foundation hosts the Community Leadership Awards Ceremony, honoring individuals of all, ages, races, backgrounds, and socioeconomic levels; the common denominator being that they are people who stand up and out for the communities they serve with passion and integrity.
Five such individuals were recently honored at the 2013 awards ceremony amidst laughter, some tears, and the warmth of their families and members of the community. The awards are made possible through special funds created by Denver Foundation donors. Nominations are not accepted.
The Foundation presented the sixth annual Parr-Widener Civic Leadership Award to Mayor Michael Hancock. The award was presented by Denver Foundation President David Miller, who has strong ties to both John Parr and Sandy Widener for whom the award is named. The Mayor himself was also connected with the couple; he was a student of John Parr's and went on to work with him at the National Civic League when John was President, and was an intern in the Mayor's office when Sandy Widener worked there before co-founding Westword Newspaper. The couple died tragically in a car crash in December of 2007, while traveling on vacation with daughters Chase and Katie. Only Katie survived. "This is a bittersweet occasion," Miller stated to a crowd of over 100 people, including Katy Parr and several of her family member, who met at The Denver Foundation Community Room. "We miss Sandy and John, but we celebrate the hundreds of leaders they have cultivated in this community."
Hancock accepted the award, which he held to his chest, while sharing heartfelt and humorous stories of his time with both John and Sandy. "Everything I learned about how to be the Mayor of Denver, I learned from John Parr," the Mayor stated. "You start with those that are impacted the most, and work together with everyone in a collaborative manner to find solutions." In describing why the Mayor was chosen to receive the award, Miller cited many contributions during his two years in office, including bringing a new patent office to Denver and the passing of Measure 2A, which has helped to set the city on a sound fiscal basis.
The Swanee Hunt Leadership Awards honor women and men who have made and who will continue to make major contributions to improving life for people in Metro Denver. Hunt, for whom the award is named, is a world-renowned philanthropist, author, and the former U.S. Ambassador to Austria. Although Hunt now lives in Massachusetts this award is one of the ways she keeps ties with the Denver community where her philanthropy began with the Hunt Alternatives Fund.
The Swanee Hunt Emerging Leadership Award was presented to Magalie Lerman. Born in Los Angeles, she moved to Denver with her family in 2000, graduating high school from Rocky Mountain Hebrew Academy in 2004. She then spent the next six years of her life battling drug addiction and chronic homelessness. During this time she witnessed oppression and exploitation first hand. Since entering recovery, she has worked ceaselessly to provide direct services to street-based young people and organize with people involved in the sex trade through Prax(us), where she is now Co-Director. Magalie is also a student at Metro State University, and serves as a board member with the Colorado Criminal Justice Reform Coalition.
The Swanee Hunt Individual Leadership Award is usually presented to one individual, but this year was given to three men of color¬—unsung heroes-—who have served to help youth veer away from a path of gangs and violence, and towards one of higher education and leadership.
Francisco "Cisco" Gallardo has helped countless others over the past 20 years; through GRASP (Gang Rescue and Support Project). He has been the organization's Program Director since 2006. He understands their struggles because he himself was on a path of destructive behavior. After time in a community corrections program, he got involved with the Chicano Humanities & Arts Council (CHAC) which helped him regain control of his life and began his journey of helping other gang members gain control of their lives by redefining the three words, "Respect," "Power," and "Pride."
Johnnie Williams who works with Cisco at GRASP, also received an award. Cisco and Johnnie are co-founders of a newly formed Unity Council, which brings multigenerational men from the African-American and Latino communities together to find common ground. A native of Chicago, Johnnie relocated to Denver, attended Metropolitan State College and became certified in Crisis Response. He is both a Criminal Justice Specialist and an Addictions Counselor, and has worked with FACES (Family Advocacy Care Education and Support) and the Shaka Franklin Foundation. His current position as a Violence Counselor at the Gilliam Youth Center allows him to utilize his interpersonal and leadership skills in his role as the Gang Intervention Specialist.
Ryan Ross, the third recipient, grew up in Denver's Five Points neighborhood. Ryan, who earned his doctorate in Educational Leadership and Innovation from the University of Colorado Denver, and who currently serves as the Dean of Students and Retention at the Community College of Denver, has never forgotten that his path to success has been education. Therefore, he dedicates himself not only to his own learning, but also providing educational access to others. Beyond his work at CCD, he is a member of the J.K. Mullen High School Foundation board and the Denver Kappa Alpha Psi Scholarship Foundation, and also serves as a mentor to students in Denver, Aurora, and Cherry Creek public schools. He is one of the founders of Denver African-American Philanthropists, Black Men Giving with a Purpose, a giving circle housed at The Denver Foundation.
***
About The Denver Foundation: The Denver Foundation is a community foundation that inspires people and mobilizes resources to improve life in Metro Denver. In 2012, the Foundation and its donors awarded $64 million in grants. The Denver Foundation has three roles: stewarding an endowment to meet current and future needs for Metro Denver, working with community leaders to address the core challenges that face the community, and managing more than 1,000 charitable funds on behalf of individuals, families, and businesses. For more information, visit http://www.denverfoundation.org.