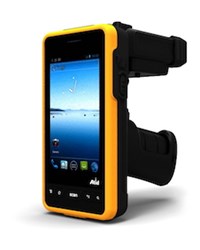 The AT911 hits a price point that is attractive to many of our clients, with features that are unavailable in consumer Android devices.
Harmony, PA (PRWEB) October 30, 2013
SDG Systems announced today the availability of the rugged Atid AT911 handheld computer. The AT911 has a bright, 4.0" WVGA TFT display with resistive touchscreen. It runs Android (AOSP) 4.0 and includes Bluetooth, WiFi and micro SDHC expansion slot. The confirmation of rugged design is demonstrated by testing for drops (1.5M to concrete), humidity (95% non-condensing), ingress protection (IP65), and low and high temperature (-20C - 60C operation). The AT911 comes in several preconfigured models that add barcode scanning, cellular, GPS, camera or RFID. For volume orders, users can customize a model from the following options: barcode scanner (1D laser or 1D/2D CMOS Imager), RFID (UHF 900 MHz or HF 13.56 MHz), HSPA+ cellular, 5MP camera, GPS and a pistol grip with high-capacity battery. A device cradle is also optional.
"The AT911 hits a price point that is attractive to many of our clients, with features that are unavailable in consumer Android devices," said Todd Blumer, president of SDG Systems. "The thin, lightweight design is ideal for field service, retail, asset management, medical and warehouse use. The pistol grip, RFID options and water-resistant design extend the possible applications. The imagination can yield dozens of additional applications."
SDG Systems is offering its Android programming services for the AT911. Users wishing to transition from Windows Mobile or Embedded products can take advantage of SDG's porting or consulting services. Refer to http://sdgsystems.com/services for more information on SDG's services. A SDK is available for RFID and barcode scanning.
In addition to the AT911, SDG Systems offers other products from Atid, including the AT288. The AT288 is a Bluetooth-connected UHF RFID reader and writer. It supports EPC Gen2, ISO/IEC 18000-6C and 18000-6B (optional). The AT288 has an optional cradle, and can be used with rugged and consumer Android and iOS devices.
Product demonstration videos of the Atid AT911 and AT288 are available on SDG Systems' YouTube Video channel: http://www.youtube.com/channel/UCewOdk_hSKEG8JVW4iVfoSQ.
About SDG Systems
Founded in 2001, SDG Systems is a value-added distributor and a leader in Linux and Android-based mobile computers and software implementations. SDG has been implementing Android OS and applications on rugged handhelds since early 2009, including a system deployment to the US Department of Defense. Companies interested in discussing consulting and software development options with SDG Systems should contact the company through sdgsystems.com or by phone at +1-724-452-9366.