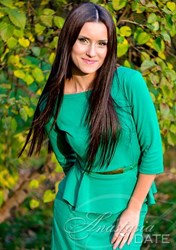 (PRWEB) October 31, 2013
AnastasiaDate.com, the top international dating service, is growing in popularity across Europe. Increasing numbers of fabulous European ladies and gentlemen are joining the service to find romance. Already hugely popular across America and Eastern Europe, the company is now experiencing massive growth in membership registrations from Germany, France, Belgium and the UK.
The company told us recently that it is delighted to be recording such growth in European memberships. The truly international dating service has a reputation for bringing the finest people together to find companionship, romance, and in many cases, love. With the influx of new European members, existing members will have even more opportunities to meet someone special from distant shores. AnastasiaDate.com is certainly the place to find romance with someone special from abroad!
The company have also seen an increase in downloads for the popular Anastasia Date mobile app. The app, which is available free from Google Play, is proving to be extremely popular amongst members who want to enjoy online dating via their phones and mobile devices. AnastasiaDate.com has made it possible for every member to keep in touch with contacts, and connect with new love interests wherever they are, at any time of day or night.
The excellent quality and variety of services the members enjoy is clearly attracting increasing numbers of people to the site. AnastasiaDate.com has built its reputation as an exclusive online dating club, offering the finest online dating services to its valued members. People who learn of the service are keen to join and connect with the high caliber ladies and gentlemen on the site.
The majority of members are highly successful professionals and business people. Many of them have their own businesses. There are also a very high percentage of ladies who are models, actresses, and who work in the media. This high caliber clientele is obviously adding to the popularity of the site. AnastasiaDate.com is streets ahead of its competition as a result. The website is state of the art, and it is where the most beautiful and successful people from all over the world gather to meet and connect. What more could a brand new member ask for?
AnastasiaDate.com is known for its use of the latest advances in online dating technology to provide a seamless, trouble free service for over 4 million members. The site is huge, and yet the company manages to make every member feel special, cared for, and important. This is a massive achievement, and the company deserves the praise it regularly receives from members, and from its peers within the industry.
The company now plans to prepare AnastasiaDate.com for the coming year by implementing the next phase of improvements. The site is always being developed and improved, so that the increasing numbers of members can continue to enjoy online dating with no interruptions. The company looks forward to welcoming more new members from Europe, and all over the world, in the coming months.
About Anastasia Date
AnastasiaDate is the leading international dating service that facilitates exciting and romantic companionship with beautiful and interesting women from all over the world. Founded in 1993 by a Russian-American couple, AnastasiaDate now has over 4 million international users and attracts more than 10 million online visits monthly. Additionally, over 1.5 million conversations are exchanged onsite daily. AnastasiaDate is committed to member safety, customer satisfaction and the on-going pursuit of innovation.
Headquartered in Moscow and New York with additional representation in every country it touches, AnastasiaDate provides a high level of customer service to a worldwide clientele. AnastasiaDate users are able to communicate across a variety of top-notch multimedia platforms, including video chat and a mobile app for Android devices available in the Google Play store.