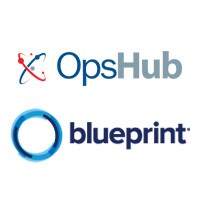 Palo Alto, CA (PRWEB) October 30, 2013
OpsHub, Inc., the leading provider of Agile ALM integration and migration solutions, today announced a partnership with Blueprint, the leading provider of enterprise Requirements Definition and Management (RDM) software. The OpsHub Integration Manager (OIM) now includes support for Blueprint. This enables Blueprint customers to unify their ALM eco-system by integrating with over thirty open source and commercial best-of-breed ALM systems, facilitating complete traceability, improved visibility and efficient collaboration between cross-functional teams.
When the latest release of Blueprint is unveiled in early December, it will feature integrations with leading best-of-breed ALM systems including, Microsoft, IBM, Atlassian, VersionOne and Rally.
"This extensive new set of integrations complements our existing portfolio which already includes HP ALM, HP Quality Center and Microsoft Team Foundation Server," says Ray Payette, Senior Vice President of Services, Engineering and Operations at Blueprint. "With this broad set of integrations our customers can now align all team members by seamlessly and efficiently exchanging data between the applications they use, so that everyone is on the same page when using systems operating in different environments."
The OpsHub solution provides the most comprehensive out-of-the-box integration and migration solutions for unifying the ALM ecosystem. It supports integration with requirements management, source control, bug tracking, test management, release management, and customer support tools.
"Our partnership with Blueprint brings an agile, enterprise ready, ALM integration solution to Blueprint customers," said Sandeep Jain, President and CEO of OpsHub. "This will help increase efficiency and collaboration of business analysts with all stakeholders within their organization, leading to better products, faster delivery and greater customer satisfaction."
OpsHub Integration Manager is available as a cloud or on-premise solution.