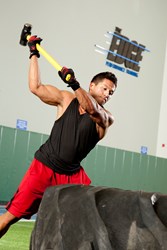 Tigard, Oregon (PRWEB) October 31, 2013
Last December, ClubSport Oregon Elite Personal Trainer Marlin Bernabe set a significant goal for himself: 10,000 member check-ins by the end of 2013 for his fitness classes at ClubSport's Edge Training center. He hit his mark in just 42 weeks— a full two-and-a-half months ahead of schedule.
"Today marks a massive vision and goal achieved by Marlin," said Talitha Bandy, Wellness Director at ClubSport Oregon. "Last December, he set a lofty goal. Clear? Yes. Easy to achieve? No. Ten thousand members received a flawless product, an escape from reality, a healthier lifestyle and a sense of community that continues to grow."
For the past 42 weeks, Bernabe has averaged just over 238 people per week for his Edge fitness classes, which include Dynamic Group Training, designed to enhance core strength and stability while improving coordination, flexibility and mental focus, and Black Friday, a Dynamic Resistance Interval Training program that utilizes unconventional tools.
A multi-sport athlete, bodybuilder and a personal trainer certified by the National Academy of Sports Medicine (NASM) and American Council on Exercise (ACE), Bernabe has an exceptional understanding of the human body. His creativity enables him to tailor workouts to people of all sorts of abilities.
Arguably one of the best personal trainers in the Pacific Northwest, Bernabe, who goes by MoveThatBody on Twitter, has already set another goal for himself by year's end: 13,000 bodies moved in 2013. ClubSport invites nonmembers to experience ClubSport and program like Dynamic Group Training free with a guest pass available on the website.
About ClubSport Oregon
ClubSport Oregon offers club members a premier wellness experience, with spa, personal training and nutrition services along with sports and fitness activities. For more information about ClubSport Oregon and all of the programs offered, visit the club's website or speak with any membership representative at (503) 616-9221.
About Leisure Sports Inc.
Leisure Sports Inc. is a prominent California-based developer and operator of large-scale, multipurpose athletic clubs and four-diamond hotels. Leisure Sports properties offer leading-edge equipment and innovative programs and activities for every age and fitness level.