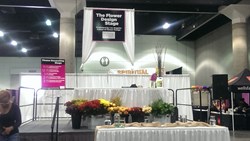 Los Angeles, CA (PRWEB) October 31, 2013
The Los Angeles School of Flower Design was present at this year's Ultimate Women's EXPO in Los Angeles, catering to the masses. To say that this years EXPO was exciting, would be an understatement. Not only were there 100's of vendors selling everything from blouses to nailpolish, they provided stages for exciting demonstrations through out the day.
The Los Angeles School of Flower Design was the focus of the 'Flower Design Stage' providing several beautiful demonstrations through out the event on Saturday and Sunday. Women from across the country began seating themselves 30 minutes prior to the scheduled demonstrations to make sure that they got the best seat in the house. As the day progressed it was standing room only for these demonstrations. Kim Rivas, the Instructor for the Los Angeles School, demonstrated to the crowd several different styles of design, including a Contemporary Tropical Design and an All Rose Hand-Tied Bridal Bouquet. At the end of each day, the Los Angeles School of Flower Design drew names to give away the day's flower arrangements as the women anxiously crowded around to see if their names would be drawn. It would be a crime to say that they were anything less than ecstatic as each name was called, cheering for each winner.
If you were not present at this years EXPO, make sure to put it on your calendar for next year. You will not be disappointed. The Los Angeles School of Flower Design offers flower design classes year round. For more information call 1-877-32-BLOOM.