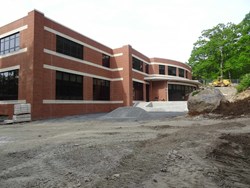 "This project supports DoDEA's goal of providing high-quality educational facilities to its nearly 1.2 million students around the world."
WEST POINT, N.Y. (PRWEB) October 30, 2013
Woolpert, a national architecture, geospatial and infrastructure firm, recently announced that construction on the 31,000-square-foot addition at West Point Middle School is complete. Woolpert provided architecture and engineering services for the facility under a contract with the U.S. Army Corps of Engineers (USACE) Norfolk District while Benard Associates, Inc. led the construction team.
West Point Middle School, one of the more than 200 military-dependent schools managed by the Department of Defense Education Activity (DoDEA), serves approximately 300 students.
The new facility incorporates modern features for student instruction, which, according to DoDEA, "takes into consideration innovation in education, curriculum delivery, use of technology, and the growing expectations for sustainability and energy conservation. The schools that we are building today will be in use for the next 45 years." To expand the functionality of the school, the new facility includes general purpose classrooms, science labs, an information center, multipurpose rooms, a kitchen, a cafeteria and administrative offices.
The construction of the building promises to reduce both energy and water use significantly. It was built with new HVAC units, variable speed fans and pumps, dedicated outdoor air with demand-controlled ventilation and heat recovery and a high-efficiency air-cooled chiller.
"We are proud to be a part of seeing this sustainable and energy-efficient project through completion alongside the USACE Norfolk District, the USACE New York District and our team of consultants," said Dave Rickard, Woolpert senior vice president and director of design services. "This project supports DoDEA's goal of providing high-quality educational facilities to its nearly 1.2 million students around the world."
West Point will still see two more stages of construction in the near future including 35,000 square feet of renovations to an historic building and 12,000 square feet of demolition work.
About Woolpert
Woolpert, ranked by Engineering News-Record as a top national design firm, provides professional design, geospatial and infrastructure services to clients in the public and private sectors. Founded in 1911, Woolpert's innovative design approach and commitment to the creative application of technology have grown the firm into a leader in the consulting industry. With more than 600 professionals in 22 offices located throughout the U.S., Woolpert's collaborative and multidisciplinary approach is driven by great people, great clients and great projects. For more information on Woolpert, visit Woolpert's website. For insight on industry trends and emerging topics, visit our Thought Leaders blog.