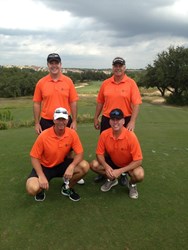 "We are incredibly grateful for the contributions given to us by the Shannon Schmitz Group," Lauren Thomas, the Director of Development, said. "The money that was raised is absolutely essential for providing care to our children."
(PRWEB) October 30, 2013
The Shannon Schmitz Group sponsored a four-man team at "Fore the Children," a golf tournament supporting Austin Children's Shelter on Monday, October 21st. The tournament was held at the Spanish Oaks Golf Course, where Shannon T. Schmitz, the President and Founder of the group lives and works. Lauded by Golf Digest as the 3rd best golf course in Texas, the private 18-hole course is designed to incorporate the natural features of the rugged Texas Hill Country landscape.
The sponsorship funds contributed by the Shannon Schmitz Group will provide food and clothing for 12 children or therapy for one year for four children. The total amount raised was $122,700.
"We are incredibly grateful for the contributions given to us by the Shannon Schmitz Group," Lauren Thomas, the Director of Development, said. "The money that was raised is absolutely essential for providing care to our children."
Established in 1984, the Austin Children's Shelter believes that every child deserves to feel safe and receive nurturing care in order to grow into happy, well-established adults. Their goal is to end child abuse and neglect and to create a world in which there is no need for a shelter for abused or neglected children. They are a nonprofit organization that provides shelter, therapy, and foster care for Austin area children and teens. Shannon Schmitz group invites you to donate if you can.
About The Shannon Schmitz Group at Austin Portfolio Real Estate / KW Luxury Homes International:
The philosophy of the Shannon Schmitz Group is to provide their clients with service that is uniquely tailored to their needs – a concierge style approach to real estate.
The team consists of dedicated, professional, and hard-working Realtors® and a dedicated, technologically savvy marketing team that work together to provide the utmost in service to their clients for buying or selling real estate all over Austin and the surrounding Texas Hill Country Area, including Spanish Oaks, Bee Cave, Barton Creek, Lakeway, Lake Travis, The Hills, West Lake Hills, and the famous Austin zip codes of 78703 and 78704.
For more information about Shannon T. Schmitz, Morgan Smith and Kimberly Montonati, visit http://www.shannonschmitzgroup.com.
Shannon T. Schmitz was also a nominee for the Austin Business Journal's 2012 Profiles in Power - Central Texas Women of Influence that showcases Austin's most influential women.