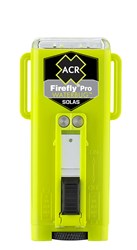 From astronauts to the US Military, ACR lights have been used by the Apollo 13 Crew and ACR distress lights are widely used by the US Military. Available to the everyday outdoors person is the ACR Firefly Pro Series.
Fort Lauderdale, FL (PRWEB) October 31, 2013
ACR Electronics debuts the Firefly® Pro SOLAS and Firefly® Pro Waterbug™, their newest rescue strobe lights made in the USA. Building upon ACR's experience and success designing and manufacturing military spec lights, the all-new Firefly PRO series has been engineered to far exceed Safety of Life at Sea (SOLAS) and United States Coast Guard (USCG) standards for brightness and operational life.
With three activation functions, these strobe lights will visually alert Search and Rescue of your location by using the standard strobe or SOS modes for position alerting at long distances. For up-close recovery operations, these new strobes have a bright steady-on feature which prevents disorienting Search and Rescue forces while performing the rescue mission. The Waterbug version includes two water sensors, when placed in the armed mode, the Firefly Waterbug will automatically activate once it comes in contact with water.
The new wide-light emission LEDs produce a 360° beam of light that is over 41 candelas allowing for visibility of over 3.5 miles. With the all-new microprocessor and redesigned electronics, these strobe lights will operate continuously for over 56 hours in strobe mode on 1 set of AA alkaline batteries, which is 48 hours longer than SOLAS regulations and twice as long as competitors. The ultra-bright cool white color produced by the Firefly PRO has no yellow tinting like other strobe lights allowing for a more visible light beam that can be seen at greater distances.
The new compact size will easily fit inside an inflatable life jacket or pocket. The military spec casing is rugged and can withstand years of abuse in the harshest environments. The two lashing loops and Velcro® strap make mounting the Firefly PRO to your life jacket, belt or pack easy so that the strobe light can be readily accessed the moment you need it.