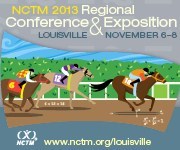 (PRWEB) October 30, 2013
The National Council of Teachers of Mathematics (NCTM), the Kentucky Council of Teachers of Mathematics, and the Greater Louisville Council of Teachers of Mathematics will host a regional conference and exposition in Louisville, November 6–8. The conference invites educators to learn effective teaching strategies and listen to exciting speakers who will inspire them with innovative ideas and strategies to take back into the classroom.
Presenters during the conference will come from all areas of Kentucky, including Lancaster, Lexington, and Morehead, as well as Louisville. Presentations will also be given by educators from surrounding states and throughout the United States, and from as far away as Brisbane, Australia. The conference will offer more than 200 sessions and workshops, covering all levels, pre-K–grade 12. The sessions support NCTM's yearlong focus on number and operations, as well as a wealth of other topics, including STEM instruction, formative assessment, the Common Core State Standards for Mathematics (CCSSM), and instructional best practices.
Keynote speaker Matthew Larson, Lincoln (Nebraska) Public Schools, will discuss how adopting new content standards alone is unlikely to reduce existing learning differentials. For CCSSM to increase the achievement of all students and close existing learning differentials, implementation efforts must simultaneously address five paradigm shifts that will be the focus of this session.
The Opening Session, "The Challenge of Making CCSSM Matter," will kick off the conference on Wednesday, November 6, 5:30–7:00 p.m., at the Kentucky International Convention Center, Cascade Ballroom A/B.
On Thursday and Friday, November 7 and 8, an interactive workshop will offer tips for all new and preservice teachers on how to manage classrooms, work with parents, find engaging lessons, and handle homework. The sessions will run from 10:30 a.m. to noon in Room 104.
On Friday, November 9, NCTM President Linda Gojak will examine how a rich problem can be the umbrella for integrating mathematical practice with mathematics content in the elementary grades. This session, "It's Raining Rich Problems!" will offer some practical suggestions to turn this vision into practice. This session is scheduled for 8:00–9:00 a.m. in Room L6/L7.
All conference activities will be held at the Kentucky International Convention Center. In addition, hundreds of the latest education products will be on display in the NCTM Exhibit Hall on Thursday, November 7, 8:00 a.m.–5:00 p.m., and Friday, November 8, 8:00 a.m.–4:00 p.m.
Preview all the conference offerings at http://www.nctm.org/louisville.
The National Council of Teachers of Mathematics is the public voice of mathematics education, providing vision, leadership, and professional development to support teachers in ensuring mathematics learning of the highest quality for all students. With 80,000 members and more than 200 Affiliates, NCTM is the world's largest organization dedicated to improving mathematics education in prekindergarten through grade 12. The Council's Principles and Standards for School Mathematics includes guidelines for excellence in mathematics education and issues a call for all students to engage in more challenging mathematics. Its Curriculum Focal Points for Prekindergarten through Grade 8 Mathematics identifies the most important mathematical topics for each grade level. Focus in High School Mathematics: Reasoning and Sense Making advocates practical changes to the high school mathematics curriculum to refocus learning on reasoning and sense making. NCTM is dedicated to ongoing dialogue and constructive discussion with all stakeholders about what is best for our nation's students.
Media interested in arranging interviews or attending the conference, contact Tracy Withrow, Communications Manager, twithrow(at)nctm(dot)org, (703) 620-9840, ext. 2189. During the conference, Nov. 5–8, call (571) 423-6315.
###