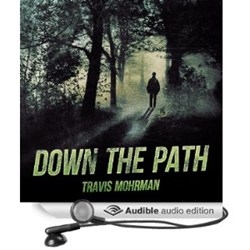 Down The Path was worth the trip!
(PRWEB) October 31, 2013
SciFi Publishing is pleased to announce the release of its newest scifi audiobook, "Down the Path" by Travis Mohrman, now available for sale on Amazon, Audible and Itunes. http://amzn.to/17qtU7L
About Down The Path
Several generations after the collapse of civilization, an isolated city is fighting to survive. Food is scarce, resources limited, and the population is dwindling alarmingly fast. Twenty-year old Cooper, marked since birth by his bright red hair, is selected to embark on a journey of a lifetime to bring hope and prosperity to his city. Prepared as best as he can for the unknown, he sets out with little idea of what he will find. Along the way he forages for food, battles sickness and the swift current of a river, and finds an unlikely companion – an immediately faithful dog he names Lupe. The duo follow the great river south until they find themselves invited into a thriving village. Cooper knows he must learn all he can and use this knowledge to save his own city before it's too late. Down the Path is an enthralling adventure story backed with real-world survival knowledge. An exciting read for all ages!
Down the Path is currently ranked #52 in the Kindle Store > Kindle eBooks > Science Fiction & Fantasy > Science Fiction > Alien Invasion
What People are Saying
5.0 out of 5 stars "Tremendously enjoyable"
5.0 out of 5 stars "Down The Path was worth the trip!"
5.0 out of 5 stars "Loved It!"
5.0 out of 5 stars "An engaging tale set in a post apocalyptic future"
5.0 out of 5 stars "Thought provoking"
5.0 out of 5 stars "Beautiful story of hoping for the best, not giving up, looking at the good side of life"
About the Author
Travis lives in High Ridge, MO with his wife and two hound dogs. He sincerely hopes you have as much fun reading his books as he had writing them. Feel free to drop him a line Travismohrman(at)gmail(dot)com
About Sci-Fi Publishing
Sci-Fi Publishing enables authors to bring their work to life, creating powerful audiobooks for Sci-Fi fans. We partner with authors from audiobook production to marketing so they can continue to focus on their passion, creating new and amazing worlds.
For more information about us and to discover other new great scifi audiobooks like:

visit us at either http://www.scifi-publishing.com or http://www.scifi-audiobooks.com.