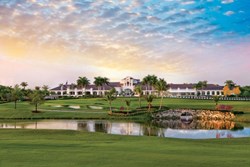 Palm Beach Gardens, FL (PRWEB) October 29, 2013
The 2013-14 Century Doubles Men's Tournament series, presented by Cliff Drysdale Tennis, is an official USTA Florida Pilot Event Series which will start with its first of five tournament events on Nov. 2-3, 2013, at BallenIsles Country Club in Palm Beach Gardens, Florida.
The tournament series is open to men's doubles teams with a combined age of 100 years or over, including a Club Division and an Open Division. Players must be 35 years of age or older in order to compete in the series.
Players will earn points for each tournament, which will be cumulatively calculated and go toward qualification in the Grand Finals in Key Biscayne, Miami in April 2014. A total of 60 points will be the minimum required in order to participate in the Grand Finals.
Trophies and cash prizes are amongst the planned awards.
The series of tournaments will float all over beautiful, sunny South Florida, starting at BallenIsles Country Club in Palm Beach Gardens, then moving to West Bay Beach and Golf Club in Estero, Weston Tennis Center in Weston, Omni Amelia Island Plantation on Amelia Island, and ending at the Ritz-Carlton Tennis Garden in Key Biscayne.
BallenIsles features three championship courses, which were originally commissioned by John D. MacArthur to serve as the home of the Professional Golfers' Association of America (PGA). BallenIsles golf courses have hosted the World Cup Championship, the PGA Championship, and the PGA Seniors' Championship and are the courses where an overwhelming number of golf's legends have initially qualified for the PGA Tour.
BallenIsles features 1500 grand residences made up of casual patio homes, golf villas, and exclusive Estate and Courtyard Homes. The homes were crafted with luxury, quality and exquisite taste in mind, and the community is perfectly located near an abundance of shopping, entertainment options, fine dining, beaches and more.
In addition to BallenIsles's famed courses, the property offers a wide variety of some of the best social activities for those who want to stay on-site. The activities include swimming, tennis facilities, spa & salon, a 62,000 square feet Sports Complex and a wide range of divine restaurant options.
Distinct Estates sells homes in BallenIsles as well as other luxury Palm Beach Gardens homes. Distinct Estates represents both buyers and sellers who are in search of their South Florida dream home. The reputable South Florida real estate agency is composed of highly experienced Florida realtors who have received many accolades for their level of professionalism and results. For more information, visit http://www.distinctestates.com.