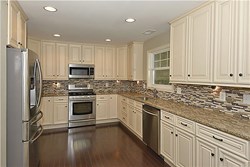 Lorton, VA (PRWEB) October 30, 2013
WISA Solutions was awarded another full kitchen remodel in Alexandria. This particular project, WISA gutted the kitchen and added new cabinets, granite, backsplash, fixtures, flooring and appliances. The homeowner was still living in the home during the duration of the kitchen remodel so WISA made sure all materials were ordered and in hand before starting the project. The duration of the remodel was a little over one week.
There were three simple, short phases in this kitchen remodel for the homeowner. The first phase was demolition; all existing cabinets were taken up along with the floor and granite. The cabinets and appliances were in bad shape so WISA disposed it properly.
Once the demolition of was finished, WISA started the second phase of the remodel which is the installation. The first step in the installation is to prepare the subfloor for the flooring, once WISA had the subfloor prepared, they began the tile installation. After the floor installation, WISA began installing the cabinets and when the cabinets were done, the granite was installed. After the granite, the backsplash was installed on the walls and the finishing touches were all done which included appliance hook up, fixtures, lighting, and painting.
The last phase of the remodel is the walk through with the homeowner. WISA project manager walked through the project with the owner to fix or answer any concerns she had. WISA still stays in touch with the homeowner after the walk through just to make sure everything goes smoothly and to help them out with any questions that may arise.
An important tip WISA has for homeowners who live in the home through the kitchen remodel is to have a designated space to have a temporary kitchen. This area needs to have a sink and an outlet for a microwave and fridge. Your current fridge can be moved into that space by WISA if there is enough room for it. Also, WISA suggests that the contractor should have all materials in hand before starting the project to best avoid delays.
WISA Solutions business hours are from 8AM-5PM weekdays and 9AM-5PM on Saturdays and by appointment with any time outside of that.