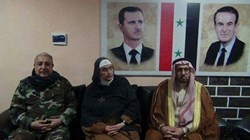 A person who actively collaborates with such people and who willfully disregards the truth is not a serious peace activist and should not be given any credibility, let alone the opportunity to speak in the United States.
Washington, DC (PRWEB) November 05, 2013
The Syrian American Council (SAC) joins Syrian Christians For Peace (SCP) in protesting the pro-Assad regime group "Syrian Solidarity Movement" for organizing a multi-city tour for Mother Agnes, a nun who is proclaiming to the world that the chemical weapons attacks in Damascus suburbs, were "staged" and the videos "fabricated."
See: BBC News: Syria's Detective Nun Who Says Gas Attack Film Faked (10/1/13) http://www.bbc.co.uk/news/world-middle-east-24358543
In the BBC report, Human Rights Watch director, Peter Broukaert, dismisses Agnes' claims as "Baseless…She is not a professional video forensic analyst, and we have found no evidence to indicate any of the videos were fabricated."
A report from NOW Lebanon released on October 30 2013 confirms that Agnes has close ties to the Assad regime, stating "the Catholic cleric meets daily with Ali Mamlouk, the head of Syria's National Security Bureau, and Jamil Hasan, the head of Air Force Intelligence."
SEE: NOW Lebanon "The Flying Nun and Moadamiyeh" https://now.mmedia.me/lb/en/reportsfeatures/518281-the-flying-nun-and-moadamiyah
"Agnes' various outlandish claims regarding the chemical weapons attack in Damascus have each been debunked Human Rights Watch," said Mina Barq, SAC Vice President. "As A Syrian-Christian, I can say that Agnes does not speak for me or other Syrian Christians. Christ taught us to care for each other, and to make sacrifices for each other when necessary. A revolutionary risking his life so others may be free or to protect innocent civilians is following Christ's teachings better than Mother Agnes" said Barq.
Syrian Christians For Peace issued a statement on October 28 2013 calling for the "excommunication" of Agnes from the Catholic Church, saying "We ask that she be excommunicated and prevented from speaking in the name of the Order of Carmelites. The reason is that she has been capitalizing on her religious position, in the service of Assad instead of Christ. We assert that Agnes and those who have walked her path do not represent Eastern Christianity."
SEE: Syrian Christians For Peace: Mother Agnes is An Assad Agent in the Clothes of A Nun (10/28/13) http://www.inewsarabia.com/485/Syrian-Christians-for-Peace-'Mother'-Agnus-is-an-Assad-agent-in-the-clothes-of-a-nun.htm
SAC demands that organizations hosting Mother Agnes events disinvite her immediately. SAC or SCP would be willing to provide a list of alternate speakers from the Syrian-Christian community.
# # #
About Syrian American Council
Founded in 2005 in Burr Ridge Illinois, the Syrian American Council is the largest Syrian-American community organization in the United States. It serves to amplify the voice of the Syrian-American Community. SAC includes members from all segments of Syrian society, and has 22 chapters nationwide with thousands of supporters. It is an organization devoted to community organizing, awareness-raising, youth empowerment, media outreach, advocacy, and support for Syrians seeking to build a free and democratic Syria.