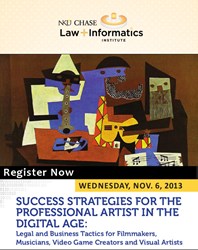 With social media gaining in popularity, more people are becoming content creators, and there is great opportunity to share creative works, but many are now becoming aware that there is real value to maintain some control over what is shared
(PRWEB) October 31, 2013
Confucius wrote, "Choose a job you love, and you will never have to work a day in your life." "For many in the creative arts, these words are both motivating and largely empty," said Jon Garon, a professor at The Northern Kentucky University Chase College of Law and founding director of the NKU Chase Law + Informatics Institute. "In an age dominated by social media and digital distribution, creative artists are required to navigate self-promotion, online contracting, sophisticated financing, and a host of challenges that pull the artist away from the creative process and into the fast-paced world of digital commerce."
The Institute is presenting "Success Strategies for the Professional Artist in the Digital Age: Legal and Business Tactics for Filmmakers, Musicians, Video Game Creators and Visual Artists," on Wednesday, November 6, 2013 from 4:30 p.m. to 8:30 p.m. in the NKU Griffin Hall Rieveschl Digitorium. The event is sponsored by the American Bar Association Business Law Section's Cyberspace Law Committee, Copyright Alliance, SpringBoard, and Frost Brown Todd LLC.
"With social media gaining in popularity, more people are becoming content creators, and there is great opportunity to share creative works, but many are now becoming aware that there is real value to maintain some control over what is shared," commented Terry Hart, director of legal policy, Copyright Alliance. "It has become increasingly more important that our creative sector has opportunities to turn their passion into profit through education and training," shared Sarah Corlett, director of creative enterprise, ArtsWave SpringBoard.
AGENDA
Legal and Business Strategies for Local Film Production

Todd H. Bailey, of counsel, Frost Brown Todd LLC
Jon M. Garon, director, NKU Chase Law + Informatics Institute
Dennis Greene, professor of law, University of Dayton
Chris Strobel, professor, NKU College of Informatics
Exhibiting, Licensing, Publishing, and Promoting

Stephen E. Gillen '80, partner, Wood Herron & Evans, LLP
Terry Hart, director of legal policy, Copyright Alliance
Jennifer Kreder, professor of law, NKU Chase College of Law
Jill P. Meyer '96, member-in-charge of the Cincinnati office of Frost Brown Todd LLC
Crowdfunding and Project Financing: Getting the Professional Paid

Chris Gulinello, professor of law, NKU Chase College of Law
Thomas E. Rutledge, member, Stoll Keenon Ogden PLLC
Barbara Wagner, assistant professor of law, NKU Chase College of Law
Panelists will address best practices in a world of easy online access, and a rapidly changing economic model of media distribution. The program is approved for 3.0 general CLE hours in Kentucky, Ohio and Indiana. Register here. For those unable to attend, a live webcast will be available without CLE credit.
The NKU Chase Law + Informatics Institute provides critical interdisciplinary research, coursework, and community outreach on issues involving media and information systems and emerging technologies across all areas of law. The Institute works with all fields within the legal profession to explore the legal and societal consequences resulting from creation, acquisition, aggregation, security, manipulation, and exploitation of data.
Since 1893, NKU Chase College of Law has educated individuals who make immediate contributions to the legal profession and to their communities. With a collegial, student-centered environment in full-time and part-time programs, Chase provides an intellectually rigorous education in legal theory and professional skills; offers practical training through its curricular offerings, co-curricular programs, and specialized centers; and instills the ideals of ethics, leadership, and public engagement.
Learn more about the workshop.