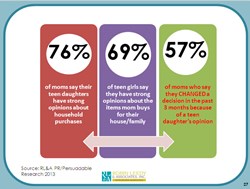 More than a majority, six out of 10 moms have changed a purchase decision in the last three months because of their daughter's opinion.
New York, NY (PRWEB) October 31, 2013
Total teen spending in the U.S. – either by teens themselves or parents spending on them directly, education aside – is estimated at $208.7 billion* a year. Yet, teen spending power goes beyond the items they buy for themselves, according to a new survey of teen influence of household purchase decisions. Conducted by Robin Leedy & Associates (RL&A; http://www.rlapr.com), a leading health, wellness and beauty public relations and social media agency with a primary focus on marketing brands to women, the survey specifically looked at the influence teen girls exert on mom when purchasing items for the household, and a considerable 76% of moms of teens report their teen daughters have strong opinions.
"What is important here is that this teen purchase influence exceeded the categories where we expected to see impact, such as their own fashion or beauty items, and extended into larger, more general purchases like the car mom drives, where 44% of moms ask their daughter's opinion," explains RL&A executive vice president and creative director, Alyson O'Mahoney, who presented the findings at M2Moms – The Marketing to Moms Conference held in Chicago. "More than a majority, six out of 10 moms, have changed a purchase decision in the last three months because of their daughter's opinion."
The Teen Purchase Influence survey**, conducted in conjunction with Persuadable Research (http://www.persuadables.com/) also showed when this influence begins: more than half (57%) of mothers report that their daughters began influencing decisions at the age of 11 or older; nearly a third (30%) said they began earlier, between 5 and 10 years old.
Expectedly, moms reported that teen girls have a "strong" or "very strong influence" on purchases that were for her personally, such as clothing/shoes/accessories (82%), makeup (67%), hair and skincare items (72%), feminine care products (68%), etc.
"What surprised us, however, was the strong influence on non-personal household purchases, such as snack foods (64%), breakfast cereals (62%), beverages (58%), restaurants visited (40%), or vacation destinations (25%), to name a few," says O'Mahoney.
Other influencers on mom's purchasing decisions include:

Family members not living with them – 30%
Friends – 29%
Online shopping site reviews – 26%
TV advertising – 23%
"Marketers spend a lot of money looking to reach and shape moms via these other influencers, yet teen influence within the household is greater than any of these areas," advises O'Mahoney. "We suggest that brands look at the teen audience as a relevant pathway to purchase in mom's buying decision."
About RL&A:
Robin Leedy & Associates (RL&A) is an integrated marketing and communications agency specializing in over-the-counter (OTC) personal health, beauty and nutritional products. The full-service, independent, creative public relations and social media firm works in all channels and mediums – from traditional print and broadcast, to social networking and digital venues — to achieve measurable, impactful results and ROI that help move the needle on efficient brand marketing spends. The agency has offices in Mt. Kisco, NY, and Manhattan. For more information, visit http://www.rlapr.com.
*(2012, September 8). Teenage Consumer Spending Statistics. Statistics Brain. http://www.statisticbrain.com/teenage-consumer-spending-statistics/
**Sept./Oct. 2013 survey of 100 teen girls ages 13-18, and 100 moms of teen girls ages 35+; primary decision makers for household purchases by Persuadable Research Corp. for Robin Leedy & Associates