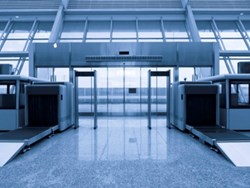 It comes as no surprise that the same best practices that have been used to keep the flying public safe are used to keep events and where people gather safe as well.
New York, New York (PRWEB) October 30, 2013
Global Elite Group (GEG) has announced it has become an authorized dealer for Ohio-based CEIA USA, a provider of security screening equipment. There is great demand to provide more advanced screening technology for industries that serve the public. GEG's expertise in providing aviation security management programs to the largest transportation hubs and airways around the world is now also being used to serve charter airlines, large scale events and other venues where the public gathers. "It comes as no surprise that the same best practices that have been used to keep the flying public safe are used to keep events safe for the public to attend. Events and places where people gather are targets, they too deserve the same level of protection," explained William McGuire, President and CEO of Global Elite Group.
Because there are so many ways to build a weapon or explosive device, security searches need to be more thorough than just a typical pat down. GEG uses hand-wands and walk-through metal detectors for airline and fixed-base operator (FBO) screenings. Not only is detection equipment getting more precise, it is being used in more places where technology can speed up the process of detecting threats immediately.
The authorized dealer program will provide GEG customers with the option to either purchase or rent security screening technology directly. "This is a great option for companies hosting events. A large gathering in a public area such as movie premiers, political assemblies, sporting events or any other group who would like to have peace-of-mind that screening those attending will bring; will benefit from these products," stated Bryan Davis, Vice President of Sales & Marketing. Metal detection and security screening technology is not just for airports, as soft targets where people gather have become targets in recent years, technology is a great compliment to the security presence at any location the public frequents.
Security screening and metal detection products are designed to make the process quicker and more efficient for anyone out in public travelling or as an event attendee. "Providing screening programs of charter passengers and event goers is no longer a trend, but a way of life," added Davis. The equipment is so precise it will display the area in question on the person. "A light will flash anywhere from the top of the machine to the bottom indicating the general region of the body where something is detected." The guess work is taken out of the security process and the stress on the public who want to safely move about is alleviated as well.
About Global Elite Group: With offices located throughout the world, the company provides security and emergency management services for companies of all sizes and is known for its emergency contingency planning in all markets and its aviation security programs for over 28 airlines located in the U.S. and abroad. The company is always expanding service offerings to compliment the security needs of individuals, companies, high profile travelers and events. The company is TSA certified to provide screenings to individuals and groups. Global Elite Group is a full-service event security management company with security details available for deployment to cover small venues to large-scale multi location events. Other services include risk assessments and asset protection.