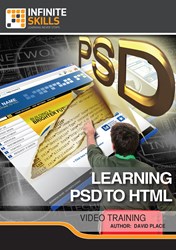 Learn PSD to HTML using Adobe Photoshop and Dreamweaver at your own pace.
(PRWEB) October 30, 2013
Software training firm Infinite Skills Inc. last week introduced its "PSD to HTML Using Photoshop and Dreamweaver," an advanced-level course exploring how to work between the two programs to convert Photoshop images into the elements of a webpage using tools in Dreamweaver.
Websites containing a high-degree of graphical sophistication are often created by preparing images in Photoshop and transferring them into Dreamweaver, where the image files are adapted for the HTML environment.
Infinite Skills' PSD to HTML Using Photoshop and Dreamweaver offers focused, advanced-level training on this process, explaining how to design elements like buttons and banners that can then be separated out using slicing techniques, and then converted and loaded into a website.
PSD to HTML Using Photoshop and Dreamweaver Video Tutorial
Course author David Plate is a software training professional with expertise in visual communication and web design. He is an Adobe Certified Educator and Education Trainer. In addition to teaching web design with Adobe software at the college level, Plate currently runs his own training company
Following an introductory overview of PSD to web conversion, Plate dives into the course project, explaining how to create a mockup with PSD files. Here, users learn how to use Photoshop to work with the initial images, creating a color pallet, setting up document size and image resolution, creating the navigation, and more, before learning how to slice the mockup and save it in preparation for conversion.
The following chapter explores the next step in the process, as students learn how to move PSD files into the Dreamweaver environment. Here, Plate teaches how to organize files, set up and manage a new Dreamweaver site, and how to use Dreamweaver tools to control the image files.
Next, Plate demonstrates how to convert the files in Dreamweaver, exploring tools like how to add titles and tags, replace placeholder slices and text with HTML using div tags, working with style sheets, and adding hyperlinks.
The course then closes with a chapter on testing the site using Dreamweaver's live view.
"By using Photoshop and Dreamweaver together," Plate says, "you can build powerful graphical elements and tie them together with the proper HTML code to create a professional quality web page."
Free demo videos and a full list of course contents can be found on the PSD to HTML Using Photoshop and Dreamweaver training page of the InfiniteSkills website:
http://www.infiniteskills.com/training/psd-to-html-using-photoshop-and-dreamweaver.html.
Infinite Skills offers its PSD to HTML Using Photoshop and Dreamweaver either as a DVD or a direct download from the company website at a retail price of $24.95. Though the compatibility of programs varies, all InfiniteSkills titles and formats are compatible with both Mac and Windows operating systems, and shipping is available around the globe. Additionally, InfiniteSkills tutorials are supported by project files which correspond to examples in the videos.
About Infinite Skills Inc.
A leader in the field of software training, Infinite Skills designs its courses on a task-oriented model, teaching complex skills by providing hands-on examples and guiding users as they carry out essential functions. Infinite Skills offers a wide range of software titles available as DVDs, digital downloads, and in iPad editions. Infinite Skills now offers a subscription service, providing access to all its training content for a monthly fee, keeping with company's aim of delivering professional training to customers anywhere they want to learn.