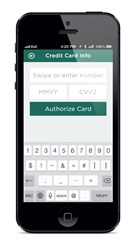 What makes uAccept™ different is the fact that there are no third party fees associated with a true mobile merchant account and we do not have the funding delays and hidden processing limits that you might find with other providers. - Chad Buckmaster, CEO
Carlsbad, CA (PRWEB) November 05, 2013
Processing Point, Inc., a California-based business solutions provider, is pleased to announce the release of its uAccept™ mobile payment processing application. The new mobile app allows businesses to quickly and easily process cash, check or credit and debit card payments from the convenience of an iPhone.
Processing Point developed the uAccept™ mobile payment processing app to help businesses of all sizes minimize the cost of conducting transactions with their customers. The app offers several versatile ways to process payments and generate receipts. For credit and debit card transactions, uAccept™ users can choose to either manually key in a customer's card number, or they can use uAccept's magnetic card reader. The card reader is a pocket-sized device that plugs into an iPhone's audio jack and accepts payment with the swipe of a credit or debit card. The uAccept™ mobile app also processes and generates receipts for cash and check transactions allowing business owners the ability to keep record of daily and historical sales.
Processing Point's uAccept™ platform is one of the first systems to offer the ability to electronically process checks. This feature enables merchants to electronically deposit checks into their bank account rather than making a separate trip to their bank to make the deposit. The app also allows the ability to credit and refund transactions directly from the mobile device. In addition, the uAccept™ mobile app features a user-friendly, online virtual terminal with tax, tips and discount settings, as well as integrated reporting options to help businesses maintain detailed transaction logs.
To complete a payment, the uAccept™ mobile app requires a customer signature. This signature is included on the receipt, which can be emailed or texted to customers. The receipt can also be customized with a company's logo and social media links. Through cloud computing, all receipts are securely stored online for the life of every uAccept™ account and are readily available for access and review as needed.
"Processing Point has always worked diligently to provide small and medium-sized businesses with affordable and reliable options for merchant payment processing," said Chad Buckmaster, CEO of Processing Point. "Our goal is to provide solutions that make things easier and better for our clients, no matter where their business takes place. We live in a mobile world where business takes place on-the-go. Our customers deserve to have the flexibility and convenience of processing payments on-the-go as well and accepting payments via mobile devices is one of the fastest and easiest ways to do so."
Buckmaster added that uAccept™ currently offers the lowest industry rates and transaction fees when it comes to debit and credit card processing.
"There are a lot of different mobile processing solutions on the market, but what makes uAccept™ different is the fact that there are no 3rd party fees associated with a true mobile merchant account. In addition, we do not have the funding delays and hidden processing limits that you will find in the current market place. This is a prime example of our commitment to both innovation and to our customers," Buckmaster said.
The uAccept™ mobile application requires a uAccept™ merchant account through Processing Point, Inc. It is currently available for use on the iPhone, and will soon be available on the iPad, as well as on the Android Market Place.
Processing Point, Inc. is a leader in providing innovative solutions to small businesses nationwide. From cutting-edge, cloud-based time and attendance to the latest in mobile payments technology, Processing Point invests heavily in new technology in order to bring products and services that save clients' time and money while performing mission-critical business tasks. For more information on Processing Point or uAccept™ merchant processing services, please call (800) 518-8925 x1005, or visit http://www.processingpoint.com.