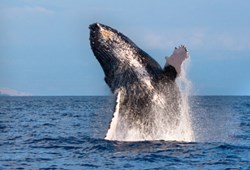 Kauai, HI (PRWEB) November 29, 2013
From November through April, enormous Humpback whales are seen breaching and spouting from the Ke Ala Hele Makalae Coastal Bike Path in Kauai's Royal Coconut Coast region. This 3.8 mile long multi-use pathway travels along Kauai's eastern coastline passing by several beaches and scenic viewpoints. It's common to see Humpback whale activity from many vantage points. On the last Saturday of January, February and March in 2014, the National Oceanic and Atmospheric Administration (NOAA), Hawaiian Islands Humpback Whale Sanctuary, asks volunteers to observe and count the number of whale sitings from 8 a.m. until noon. The data is used to monitor growth or decline of the endangered Humpback whale population. The Royal Coconut Coast Association, an organization of area lodging and attractions, encourages its members and visitors to participate by signing up as a volunteer on January 25th, February 22nd or March 29th. For visitors bike rentals are found in several locations along the bike path. One company also provides bike trailers for small children. There are two restrooms and a number of picnic pavilions along the route. The primary whale count activity takes place at an overlook just east of Kapaa. For more information go to NOAA's Hawaiian Islands Humpback Whale website.
The National Oceanic and Atmospheric Administration (NOAA) oversees the Hawaiian Islands Humpback Whale National Marine Sanctuary, which protects winter breeding, calving and nursing. According to NOAA's website the largest Pacific population of the endangered Humpback whale (megaptera novaeangliae) is found in the Hawaiian sanctuary which encompasses 1,218 square nautical miles of coastal and ocean waters.
The Royal Coconut Coast Association is a non-profit corporation, officially established in late
2012. The organization acts as a central source of information about features in the Wailua to Kapaa corridor of Kauai including public and private attractions, lodging, restaurants, shops and area events.