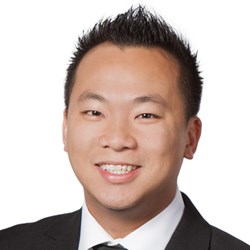 Wan focuses on helping first-time homebuyers, sellers who are upsizing or downsizing, and foreign and local investors interested in rehabilitated and rental properties.
San Francisco, CA (PRWEB) October 30, 2013
San Francisco-based Climb Real Estate Group is pleased to announce their affiliation with Marco Wan, who joins the real estate team as Sales Associate. An accomplished residential real estate agent, Wan comes to Climb with over 5 years of sales experience in residential general brokerage.
Wan was previously one of the top producers at Hastings Realty Group, with a primary focus in the Asian-American market. "When I first started in real estate, my focus was on foreclosed and distressed properties, mainly helping first time home-buyers and investors to rehabilitate distressed properties," said Wan. "One of our most successful marketing vehicles was setting up a foreclosure bus tour, taking buyers out in a large group in a tour bus to tour foreclosed properties all over the Bay Area."
Wan focuses on helping first-time homebuyers, sellers who are upsizing or downsizing, and foreign and local investors interested in rehabilitated and rental properties. He sells real estate throughout the Bay Area, including in San Francisco's Richmond, Sunset, and Portola districts, Daly City, South San Francisco, San Bruno, Millbrae, Burlingame, San Mateo, and Foster City.
"I joined Climb Real Estate Group because their visibility and marketing is far superior to any other real estate brokerage," said Wan. "We are building a huge presence in the San Francisco Bay Area and it is a fun place to be a part of this dynamic organization."
Wan has already developed partnerships with some of Climb's top producers, including Marcus Lee. Together they will be helping serve the Chinese marketplace of buyers and sellers. In a statement, Sales Director Marcus Lee said, "Marco means results! Over the past few years I had the pleasure in interfacing with Marco while he was at his former firm. For each transaction, Marco's approach was spot on. His clients were educated, qualified, and well ready for their perfect home. Marco delivered. When Marco approached me regarding the opportunity to work at Climb, I knew there was a perfect fit: a true client advocate coupled with the inspiring innovation and support from Climb. Also a plus is that Marco's multi-lingual capabilities continues to expand Climb's reach into the international and diverse market spaces we serve."
"With his experience in selling real estate in the Bay Area, Marco Wan is a highly respected real estate agent whose skill set complements that of our international clientele," said Tiffany Combs, Managing Broker of Climb Real Estate. "His strong work ethic as well as his experience with foreign buyers will be invaluable to our team as we continue to expand in markets outside of San Francisco."
Born in Hong Kong and raised in San Francisco, Marco Wan is fluent in Cantonese and conversational in Mandarin. He graduated from the University of California, Irvine with a degree in Psychology and Social Behaviors and is a member of the NAR, SFAR, and MLSListings. Wan is a certified HAFA Specialist, GRI (Graduate Realtor Institute), and SRES.
Wan currently lives in Broadmoor Village in Daly City with his wife Sarah and dog Obie. Their family will be welcoming their first child, Jaelyn-Dora, in November 2013.
ABOUT CLIMB REAL ESTATE
Climb Real Estate Group is a full-service general real estate brokerage with an emphasis on the purchase, sale, rental and marketing of select residential new developments, commercial and premier resale properties. They specialize in condos, high rises, lofts and homes in South Beach, SOMA, South Beach, Mission Bay, Rincon Hill, Potrero Hill and Central Waterfront. Their focus is on urban-style properties, specializing in new construction, historic loft conversions, live/work spaces, Victorian flats, modern condominiums, and stylish single-family homes. They also have exclusive access to off-market listings, foreclosures and developer specials.