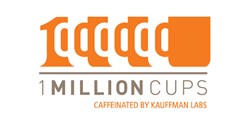 Kansas City, MO (PRWEB) October 30, 2013
At precisely 9 a.m. today, hot coffee will be brewing up conversation and collaboration among entrepreneurs in 20 cities across the nation. It marks an important milestone for 1 Million Cups, the weekly program that has been educating and engaging entrepreneurs and accelerating startups for the past 18 months. Kauffman Labs for Enterprise Creation at the Ewing Marion Kauffman Foundation last fall announced its intention to scale its entrepreneurship education program to 20 cities by the end of 2013. The goal has been accomplished two months ahead of schedule.
"What began simply as a way for us to connect with the entrepreneurs who were starting up companies locally has morphed into a national phenomenon," said Thom Ruhe, vice president of Entrepreneurship at the Kauffman Foundation. "We started in April 2012 with two entrepreneurs presenting to an audience of about a dozen Kauffman staff. Today, 1 Million Cups in Kansas City regularly draws more than 300 people each week."
And that's just in Kansas City. Now that 1 Million Cups has poured into 19 other cities, the estimated weekly attendance nationally is approaching 1,200. Each week 37 U.S. entrepreneurs get to share the stories of their startups with an audience made up of local mentors, advisers, funders, fellow entrepreneurs and others who are involved or interested in the startup scene.
The program's model is consistent in each location. Each Wednesday morning at 9 a.m., two early-stage startups present their companies to audience members. Each founder presents for six minutes and then fields audience questions, ideas and suggestions for 20 minutes. The program is run by local entrepreneurs who serve as community organizers.
The three cities launching today are Tulsa, Okla.; Peoria, Ill.; and Omaha, Neb. These Midwestern locales fit the 1 Million Cups model of mid-sized cities looking to coalesce their entrepreneurs and startup activities.
In the newest cities, 1 Million Cups will meet weekly at:

Tulsa: Foolish Things Coffee, 1001 S. Main St.
Peoria: 3030 Coffee, 734 Main St.
Omaha: Mammel Hall, University of Nebraska Omaha, 6708 Pine St.
"While I am thrilled that all three cities have joined the 1 Million Cups network, today's launch in Omaha has special significance to me," said Nate Olson, Kauffman Foundation associate and co-founder of 1 Million Cups. "I was born and raised in Omaha. It's very gratifying to be part of a team in Kansas City that's built and grown this educational program that reaches entrepreneurs across the country and now will impact the community that raised me."
The entrepreneurs volunteering as community organizers in the new 1 Million Cups cities are:
Tulsa: Tim Bickers of Emerging Ideas, Justin and Katie Carpenter of Foolish Things Coffee and Brad Post of Movement Inc. and The Grass Roots Lawn Care
Peoria: Jake Hamman of OneFire Media, John Mitchell of GiveviG.com and Eric Myers of OSF Saint Francis and Froots Franchising Cos.
Omaha: Scott Bishop of Crave Engine, Shane Reiser of Startup Genome and Danny Schreiber of Zapier.
In addition to Tulsa, Peoria, Omaha and Kansas City, the other cities offering 1 Million Cups locally are Des Moines, Iowa; Houston; St. Louis; Cedar Rapids/Iowa City, Iowa; Reno, Nev.; Chattanooga, Tenn.; Denver; Chapel Hill/Research Triangle Park, N.C.; Georgetown, Del.; Lawrence, Kan.; Columbia, Mo.; Loudon County, Va.; Orlando, Fla.; San Diego; Bismarck/Mandan, N.D.; and St. Petersburg, Fla.
View the national website at http://www.1millioncups.com. Follow the conversation at @1millioncups on Twitter.
About the Ewing Marion Kauffman Foundation
The Ewing Marion Kauffman Foundation is a private, nonpartisan foundation that aims to foster economic independence by advancing educational achievement and entrepreneurial success. Founded by late entrepreneur and philanthropist Ewing Marion Kauffman, the Foundation is based in Kansas City, Mo., and has approximately $2 billion in assets. For more information, visit http://www.kauffman.org, and follow the Foundation on http://www.twitter.com/kauffmanfdn and http://www.facebook.com/kauffmanfdn.