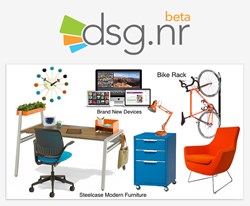 San Francisco, CA (PRWEB) October 31, 2013
Dsg.nr, http://dsg.nr (pronounced "designer"), an online design collaboration platform, launches its "beta preview" app today. It aims to change the way interior designers and consumers concept and create their digital design boards, which is currently a difficult, costly process. While popular sites such as Pinterest and Houzz serve as places for people to gather inspiration for interior design projects, Dsg.nr takes it to another level by giving them tools to manipulate images and create their own vision for how they want to design a space.
After seeing interior designers experience the frustrations and limitations of complicated, expensive software programs such as Photoshop, the Dsg.nr team created a free web-based application that helps designers of all levels, consumers and professionals, create boards in minutes, not hours. The design tool aims to eliminate the needless hours that designers spend cataloging and tracking products, manipulating images and compressing files to share with others.
"At the idea stage, design communication should be simple and flexible. Anyone should be able to grab images and move them around as naturally as they speak," said Nancy Quan, a former professional interior designer, Co-Founder and CEO of Dsg.nr.
The new Dsg.nr web tool allows users to easily find product images from mainstream brands as well as from retailers with unique offerings and add them to their design boards. In addition, users can easily add their own products onto their boards by simply dragging and dropping images from most websites as well as from their desktop.
Users can arrange items freely, add labels and share the design boards easily. The free design board tool is available to users who sign up at http://dsg.nr.
"The design board editor is just a minor portion of what we are envisioning; ultimately, we will build a platform that will provide true social collaboration features to help designers streamline their processes and make it easier for them to share their ideas with clients and keep costs down. We're excited to invite users to join our community and share their ideas with everyone," said Oscar Medina, Co-Founder and CTO of Dsg.nr.
About Dsg.nr:
Driven by a team passionate about design and technology, Dsg.nr (http://dsg.nr) is a web-based social collaboration platform for interior design. The San Francisco-based startup was founded in May 2013 and has just released the first version of its main product, the design board editor. Dsg.nr is working towards building out other exciting features.