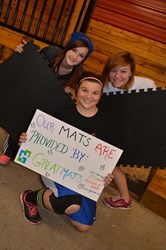 As the kids begin to trust the horse, they begin to trust us as well.
Plainview, AR (PRWEB) November 07, 2013
Since 1985, Glenhaven Youth Ranch has been taking care of at-risk children. A horse ranch, they board kids, educate them, and minister to them in an effort to help troubled children turn their lives around.
Licensed by the Department of Human Services to provide direct, long-term residential care for as long as thirty months, GYR is completely non-profit and functions totally on donations from individuals, churches, and businesses from across the country. The average stay for the kids is seventeen months and they come from all over the US.
According to their website, "Glenhaven Youth Ranch provides hope and healing in a Christ-centered home for young men and women in need. We partner with families and others, equipping them with tools to help hurting children overcome the disappointments of their past. Rather than addressing surface issues with temporary solutions, our professional team of staff and volunteers take a relational approach to meet each child's unique needs. On average, a resident graduates after two years by reintegrating into a healthy family or transitioning into a hopeful adult life."
"The horses are a valuable part of our program," says Scooter McKamie, the Equine Director. "As the kids begin to trust the horse, they begin to trust us as well. The horses really do help the healing process for the kids." All Glenhaven residents work with horses in some capacity.
The stall mats, a high-density EVA foam, will be used in the wash bay area for the horses as well as when the horses travel to different locations. They are waterproof and lightweight which makes them ideal for the applications Glenhaven will be using them for.
About Greatmats:
Headquartered in Milltown, WI, Greatmats is a leading online dealer of residential and commercial specialty flooring options. Greatmats is 100% solar powered and has been named one of Inc magazine's top 500 fastest growing sites three years in a row. They hold a Triple-A rating with the Better Business Bureau. For further information, contact Greatmats at 877-822-6622 or visit http://www.greatmats.com.