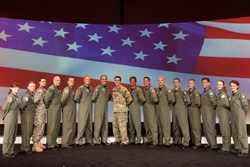 Each book speaks to our concordant passions for helping our fellow veterans and bringing Flawless Execution to the world.
Atlanta, GA (PRWEB) October 31, 2013
Following the success of his best-selling book Flawless Execution (2005), Afterburner, Inc. founder & CEO, James D. Murphy, has penned not just one, but two new books to be released in the coming months.
Both books focus on the application of Afterburner's progressive Flawless Execution model as a continuous improvement process, but with different audiences in mind.
The first to release, Down Range, was written collaboratively with Afterburner Director of Learning & Development, CDR (ret.) Will Duke, USN, and serves as an aid for transitioning military professionals. An expansion of a transition program that Afterburner is actively developing with the US Army, Down Range empowers departing military members to communicate the value of their service experience and individual areas of expertise and to use those skill sets and experience as a catalyst to success throughout the course of their civilian careers.
The second book, Courage to Execute, is intended for business leaders who want to build their teams into high-performing, risk-mitigating organizations. The Flawless Execution model's simple, scalable process is presented as the strongest combatant to the ever-increasing complexity of today's New Normal. By way of harrowing first-hand accounts of combat, real-world applications to business, and a Super Bowl win, Courage to Execute underscores the significance of simplicity in a time when lateral and vertical progression occurs simultaneously and at blinding speed.
Since 1996, Afterburner's team of more than 50 Fighter Pilots, Navy SEALs, and other Special Operators has brought military precision to businesses around the world. Through interactive seminars, workshops, and onsite consulting, more than 30% of the Fortune 500 has learned the secrets of the military's elite teams. Universal in applicability, the Flawless ExecutionSM model can be implemented in any organization, regardless of size, industry, and experience, to close execution gaps, accelerate performance, and reduce errors.
"We are excited about the upcoming launches of Down Range and Courage to Execute. Each book speaks to our concordant passions for helping our fellow veterans and bringing Flawless Execution to the world," stated Jim "Murph" Murphy.
Down Range will be released in December and Courage to Execute will be released in January. The books will join Afterburner's repertoire of previous business scholarship works, including the aforementioned Flawless Execution, The Debrief Imperative, and Business is Combat.
To pre-order your copy of Down Range or Courage to Execute, please visit http://www.AfterburnerStore.com or call (404)-835-3500.
About Afterburner®
Afterburner Inc. was founded in 1996 by U.S. Air Force fighter pilot Jim "Murph" Murphy and trains organizations around the world in the simple, scalable improvement processes of Flawless ExecutionSM. Encompassing three management solutions, Empower SM, Equip SM, and EmbedSM, Afterburner bring elite military precision to top corporations around the world. With a client list that includes over 30% of the U.S. Fortune 500, Afterburner has ranked among Inc. Magazine's "Inc. 500 List of America's Fastest Growing Companies" three times and has been featured in leading publications like the Wall Street Journal, Business Week, Atlanta Business Chronicle, Financial Times, Newsweek, and Meetings and Conventions Magazine. Afterburner has also appeared on CNN, CNBC, Fox News, and Bloomberg News, among others. To learn more about Afterburner's innovative approach to professional development and strategy, visit http://www.Afterburner.com or call (404)-835-3500.