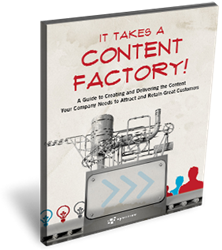 Boston, Mass. (PRWEB) October 30, 2013
OpenView Venture Partners, an expansion-stage venture capital firm focused on providing technology companies with deep operational support, announced today the release of a new eBook entitled, "It Takes a Content Factory: A Guide to Creating and Delivering the Content Your Company Needs to Attract and Retain Great Customers." Written for novice and advanced content marketers alike, the eBook is a comprehensive, step-by-step guide to building the content factory businesses need to generate and nurture leads, enable sales, and establish themselves as thought leaders.
"At OpenView, we understand the value of content marketing as a tool for getting more customers and building your brand," said Kevin Cain, the firm's Director of Content Strategy. "We have been active content marketers since 2007 and have compiled the best practices we have learned into a go-to resource to help our portfolio companies build their own content marketing programs."
Specifically, OpenView's eBook is designed to help companies:

Develop an effective content strategy
Assemble a nimble content team
Create high-impact content
Amplify your content
Maximize conversions
Manage and measure their content marketing efforts
The eBook also contains a variety of valuable resources for advanced content marketers, including advice on creating effective buyer personas, guidelines around what types of content to use at each stage of the buyer journey, and templates for creating an editorial calendar and metrics dashboard.
OpenView's eBooks support its mission of building great companies by providing expansion-stage companies with the operationally oriented tools and support they need to succeed. The firm's recent eBooks cover buyer insights research, building a talent factory, and building a successful outbound lead generation team. To learn more, visit http://labs.openviewpartners.com/ebooks/.
About OpenView Venture Partners
OpenView Venture Partners (http://www.openviewpartners.com) is an expansion-stage venture capital fund based in Boston that is focused on high-growth software, Internet, and technology-enabled companies. Through its staff of seasoned operating executives, who collectively bring several decades of technology and management experience to the firm, OpenView is able to help portfolio companies quickly optimize their product, go-to-market, and organizational and operational functions. Founded in 2006, the firm invests globally and has approximately $445 million in total capital under management.