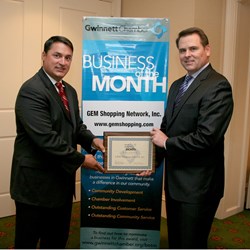 Atlanta GA (PRWEB) October 31, 2013
Gem Shopping Network, a 24-hour television network in its 16th year presenting fine jewelry and gemstones on air and reaching more than 40 million households across America, has been selected as the October 2013 Business of the Month by the Gwinnett Chamber of Commerce. Gem Shopping Network was singled out for the honor for its ongoing contribution to the business community of Gwinnett County, Georgia, and its continuing role as an outstanding corporate citizen.
Each month, the Gwinnett Chamber of Commerce honors a local business for making a difference in the region through community development, chamber involvement, outstanding customer service and community service. Award recipients are chosen by a nominating committee as well as recommendations from members and staff of the Chamber.
"We are extremely honored to receive the October 2013 Business of the Month award," stated PJ Lynch, CEO at Gem Shopping Network. "I have always believed in supporting the economic development of Gwinnett County. I am pleased to accept this on behalf of our 150 employees the 'gems' of our business. GSN looks forward to being a continuing part of the vibrant business community of Gwinnett County."
The Gwinnett Chamber of Commerce held the awards ceremony in Duluth, Georgia, on Thursday, October 24, 2013 during the general membership meeting and luncheon. The award was presented to Mr. Lynch by Chamber President and CEO Dr. Dan Kaufman and Senior VP of Membership Services Vince DeSilva.
For more information about the business of the month award, please visit http://www.gwinnettchamber.org/category/business-of-the-month/ or call 678-957-4958.
About Gem Shopping Network:
Gem Shopping Network, is in its 16th year with over 150 employees and PJ Lynch at the helm as CEO. Lynch was named CEO in early 2011 bringing a rich mix of corporate experience and his own track record of impressive accomplishments. An affiliate of Sun Capital Partners, Inc. acquired Gem Shopping Network Inc. in the fall of 2013. Sun Capital has strong experience in the fashion and consumer retail sector.
Earlier this year GSN was honored to provide the jewelry to the First Lady's Luncheon in Washington DC where PJ Lynch personally presented the First Lady of the United States a triple strand of pearls with a special USA interlocking clasp designed and manufactured in Georgia at the Gem Shopping Network.
Gem Shopping Network can be seen on DirectTV, Dish Network, Charter, Comcast, Time Warner or via live streaming on http://www.gemshopping.com
About The Gwinnett Chamber of Commerce:
The Gwinnett Chamber of Commerce is an independent, non-profit, member-funded business advocacy organization Representing over 2,000 member companies employing more than 750,000 workers across the Metro Atlanta and Georgia Innovation Crescent regions, the Board of Directors and Chairman's Club members are drawn from the top local, regional and statewide leaders. The Gwinnett Chamber improves economic opportunities for all by helping existing businesses grow and expand and recruit quality businesses and high-wage jobs to Georgia, the Metro Atlanta and Innovation Crescent regions, and Gwinnett.
Address:
Gwinnett Chamber of Commerce
6500 Sugarloaf Parkway
Duluth, Georgia 30097