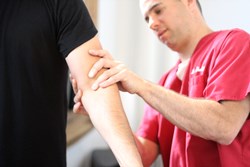 New York, NY (PRWEB) October 30, 2013
Dr. Steven Shoshany has been working with professional and amateur athletes for years. At his NYC Practice, he has been helping people who participate in Crossfit competitions as well as people who dabble in weekend sports leagues. He has been treating people suffering from Achilles tendinitis for well over 10 years, using a combination of therapies to create an individualized treatment protocols based on each patient's needs, and history.
When it comes to runners, Dr. Shoshany has a long history of helping people who have suffered from chronic, as well as acute injuries resulting from sudden trauma related to sports and athletic activity. He has been known for his unparalleled results in treating people who have not been able to find relief through routine recovery protocols such as NSAID pain relievers, and rehabilitation. He's even helped runners with post-surgical pain and discomfort get back to living without pain.
Dr. Shoshany is known for combining traditional medicine, chiropractic, acupuncture, deep tissue massage, and physical therapy, along with techniques that specifically address soft tissue (muscles, tendons, ligaments) such as the Graston Technique and Cold Laser Therapy. While Dr. Shoshany is a chiropractor, he works alongside a doctor of osteopathy, a massage therapist, and a physical therapist. They treat every patient the same way a team of specialists would come together to treat professional athletes.
The New York Road Runners club recommends a chiropractor as part of the distance runner's recovery and wellness routine, as well as a part of training for the New York City Marathon. Dr. Shoshany does more than just chiropractic. He is also a certified full body ART (Active Release Techniques) provider, which is one of the most well regarded recovery tools a professional can find. Kinesio Taping is also something Dr. Shoshany offers at his NYC practice. He is a certified Kinesio taping practitioner, and he also works with a physical therapist who is a certified RockTape Doc. RockTape is very well known in the Crossfit and adventure racing communities and is making its way in to all forms of professional sports, even some NFL athletes have been seen wearing Kinesio Tape.
The treatment protocol for each athlete, or runner differs but the overall protocol starts out with a consultation where Dr. Shoshany or one of his associates discusses the patient's background, athletic history, past injuries, and very importantly, their goals. This is usually followed by diagnostic screening, which can be done on the premises if a digital x-ray, or ultrasound is required. After the consultation and diagnostic process the doctors and patient discuss what techniques would be best applied for optimal results and what the root cause of the pain or injury is.
The cause of an injury can often be caused by an issue along the kinetic chain. The body's joints rarely function independently of each other and a knee injury can be related to poor flexibility of the ankle or vice versa. Dr. Shoshany also makes it a point to find and correct spinal and postural misalignment that may be causing injuries or putting someone at risk of further injury. Each patient is treated as a whole, with chiropractors focusing on the spine and pelvis, physical therapists focusing on muscular imbalances and weaknesses, and massage therapists providing manual release to muscular adhesions and trigger points.
To learn more about treatment, or to schedule a visit call: 212 645 8151.