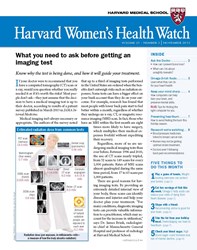 Boston, MA (PRWEB) November 07, 2013
When doctors recommend imaging tests such as magnetic resonance imaging (MRI) or computed tomography (CT) scans, many people don't ask questions—they just assume that it's the right thing to do. Yet medical imaging isn't always necessary or appropriate, reports the November 2013 Harvard Women's Health Watch.
For up to one-third of imaging tests performed in this country, the benefits don't outweigh risks such as radiation exposure, according to a survey published in JAMA Internal Medicine. Yet more people are undergoing medical imaging tests than ever before. Between 1996 and 2010, the use of CT scans nearly tripled, from 52 scans per 1,000 people to 149 per 1,000. Rates of MRI scans almost quadrupled during the same time period, from 17 scans per 1,000 people to 65 scans per 1,000.
There are good reasons for having imaging tests. By providing an extremely detailed internal view of your body, scans can identify diseases and injuries and help your doctor plan your treatment. "For many conditions, diagnostic imaging tests provide valuable information to a practitioner, which may account for the increase in utilization," says Dr. James Brink, radiologist-in-chief at Massachusetts General Hospital and professor of radiology at Harvard Medical School.
Usually there's little risk from having an annual dental x-ray or screening mammogram, but when tests that emit higher levels of radiation—such as CT and PET scans—are used excessively or without good reason, they have the potential to cause needless side effects. A 2007 study in The New England Journal of Medicine suggested that 20 million American adults may be unnecessarily exposed to radiation from CT scans each year. Accumulation of radiation doses can lead to cancer.
Whether to have a diagnostic test is a decision you should make in partnership with your doctor after carefully considering and weighing your options. In some cases, the answer is clearly yes. "If a patient is coming into the emergency room with concerns of appendicitis, the risk of not doing the scan and missing the appendicitis is exponentially greater than the exposure risk," Dr. Brink says.
In other cases—for example, if you've already been diagnosed with a condition and the scan won't significantly influence your treatment—it might be better to say no. Ask questions and make sure that the benefit is going to exceed the risk.
Read the full-length article: "What you need to ask before getting an imaging test."
Also in the November 2013 Harvard Women's Health Watch:

Omega-3-rich foods are good for the heart
How using computers can keep the mind sharp
Preventing the burn of heartburn
Harvard Women's Health Watch is available from Harvard Health Publications, the publishing division of Harvard Medical School, for $20 per year. Subscribe at http://www.health.harvard.edu/newsletters/womens or by calling 877-649-9457 (toll-free).