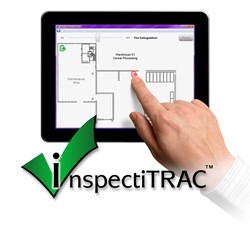 I am thrilled when I hear our customers comment about how much they are saving while simplifying and automating a normally very time consuming process.
Le Sueur, Minnesota (PRWEB) October 30, 2013
intrRAtrain™ and inspectiTRAC™ by Russell Associates will exhibit at booth #131 on November 3-6, during the International Dairy Show. The International Dairy Show (International Dairy Foods Association), co-located with the Process Expo (Food Processing Suppliers Association) will be held at McCormick Place in Chicago, IL. Russell Associates' CEO, Jerry Van Oort, sees Russell Associates' attendance as an opportunity to present products to dairy and food industry professionals looking to improve their inspections, audits and observation process and improve their effectiveness and efficiency of their training and documentation process.
One product Van Oort is excited to talk with conference attendees about is Russell Associates' inspectiTRAC™. inspectiTRAC™, Russell Associates tablet-based software system, provides companies with the tool needed to reduce costs associated with inspections, audits, and observations. This software, designed for client customization in a wide range of businesses and industries, reduces employee inspection data collection and transfer time while increasing data accuracy. The tablet-based software is designed to make the inspection and auditing process trouble-free by integrating the inspection/audit criteria and location visuals directly into the program design, thus reduces the time needed to complete inspections while also reducing errors in data entry.
The system links seamlessly with inspectiTRAC™ manager, a cloud-based management tool for reporting, alerting and scheduling audits and inspections, and inspectiTRAC™ administrator, a platform for creating and editing the maps and inspection criteria used by the inspectiTRAC™ data collector program.
Van Oort comments, "inspectiTRAC™ is a revolutionary tool that can save companies thousands of dollars annually. I am thrilled when I hear our customers comment about how much they are saving while simplifying and automating a normally very time consuming process."
Russell Associates will also officially be releasing their expanded catalog of Food Safety Courses. New courses available include: Cleaning and Sanitation, GMPs, and Food Safety and Security. These highly visual, interactive modules were designed to effectively and efficiently delivery essential training to employees.
"The expanded food safety catalog is a great compliment to the other training products we provide. I am excited to have expanded our selection of food safety courses and look forward to bringing additional products to the market that help keep food safe," states Van Oort.
Other Russell Associates products on display include:
•intRAtrain™ LMS- is a Learning Management System (LMS) designed for small and mid-sized companies. This breakthrough LMS is easily navigated and used by administrators and students alike. intRAtrain™ gives you the freedom to create and register for classes, enroll students, track completion, create and print testing and assessments, record results, print classroom rosters, deliver e-learning, access standard and custom reports and much more.
•intRAtrain™ Safety- is a library of more than 50 online training courses on topics from personal protective equipment to GMP and lockout/tagout. These courses help modify employee behavior and practices to ensure consumer and employee safety. SafeTrain™ general safety courses focus on employee health and safety performance by influencing and standardizing employee actions, behaviors, and practices to reduce accidents and incidents.
About Russell Associates
Russell Associates is a training, testing, inspections and management systems company that works alongside clients to develop tools that effectively and efficiently do business better. The use of Russell Associates' products, intRAtrain™ and inspectiTRAC™, results in superiorly trained employees; improved training, testing, and inspection processes; greater efficiencies, reduced risk and lower costs.
About the IDFA
The International Dairy Foods Association (IDFA), Washington, D.C., represents the nation's dairy manufacturing and marketing industries and their suppliers, with a membership of 550 companies representing a $125-billion a year industry. IDFA is composed of three constituent organizations: the Milk Industry Foundation (MIF), the National Cheese Institute (NCI) and the International Ice Cream Association (IICA). IDFA's 220 dairy processing members run nearly 600 plant operations, and range from large multi-national organizations to single-plant companies. Together they represent more than 85% of the milk, cultured products, cheese and frozen desserts produced and marketed in the United States.
ABOUT FPSA
The Food Processing Suppliers Association (FPSA) is a global trade association serving suppliers in the food and beverage industries. The Association's programs and services support member's success by providing assistance in marketing their products and services, overall improvement in key business practices and many opportunities to network among industry colleagues. Programs and services to achieve these objectives include PROCESS EXPO (industry leading trade show), electronic media marketing, education, market intelligence, research, and advocation of critical industry issues such as food safety, sanitary design of equipment, and global trade. FPSA members are organized in vertical industry councils which focus on specific needs and concerns that are unique to each industry sector.