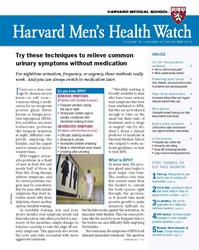 Boston, MA (PRWEB) November 14, 2013
Many men over 50 take a daily medication to control bothersome urinary symptoms of benign prostatic hyperplasia (BPH). Yet there's an alternative called watchful waiting for men with mild to moderate BPH symptoms, reports the November 2013 Harvard Men's Health Watch. It basically means making lifestyle changes and monitoring symptoms closely until medication or other action is really necessary.
BPH, caused by an overgrown prostate gland, triggers a variety of problems, including frequent urination at night, difficulty completely emptying the bladder, and the urgent need to urinate at inconvenient times. "Watchful waiting is broadly available to men who have lower urinary tract symptoms attributed to BPH, but who are not bothered enough to take on the small but finite risks of treatment, such as drugs or surgery," says Dr. Michael J. Barry, a clinical professor of medicine at Harvard Medical School who helped write national guidelines on how to treat BPH.
Watchful waiting doesn't mean "do nothing." Changes in fluid intake and bladder habits can noticeably relieve BPH's bothersome effects. A review of medications taken for other conditions could also identify those that contribute to BPH symptoms.
Many men need to be reassured that the changes in urinary function they are noticing are not signs of something like prostate cancer. It's a common fear. "Many men will consult a doctor about the lower urinary symptoms less because they are bothered enough to do something about them, but more because they are concerned about what the symptoms could represent," Dr. Barry says.
Read the full-length article: "Try these techniques to relieve common urinary symptoms without medication"
Also in the November 2013 issue of the Harvard Men's Health Watch:

Essential steps to preserve the heart's pumping power
How to prevent flare-ups of diverticular disease
Can computer-based training software help keep your brain sharp?
Tips to build a healthier sandwich
The Harvard Men's Health Watch is available from Harvard Health Publications, the publishing division of Harvard Medical School, for $20 per year. Subscribe at http://www.health.harvard.edu/mens or by calling 877-649-9457 (toll-free).