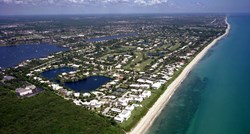 Lost Tree is a private community with outstanding natural beauty.
North Palm Beach, FL (PRWEB) October 30, 2013
Brian Peaper, 53, moved to South Florida in 1986 and currently resides in Tequesta. Peaper played golf in college, first for Ball State University and later for the University of Indianapolis in his home state of Indiana. He then went into the business side of golf when he was out of college.
Peaper still plays competitively in South Florida PGA senior events, and has been acting as the director of golf at the Lost Tree Club located in North Palm Beach since 1996. Peaper was recently named the 2013 SFPGA Golf Professional of the Year."
During his eight-year tenure with the South Florida PGA, Peaper has held titles as section vice president and president. His responsibilities at Lost Tree Club include management and supervision, teaching, facilitating, and organizing, to name a few.
Peaper's eight-year commitment to the SFPGA has included the titles of section vice president and president. At Lost Tree, his duties include managing, teaching, facilitating, organizing, and more.
Lost Tree Club is located in the upscale Lost Tree Village, which features luxurious oceanfront homes, intracoastal homes, golf cottages, and golf homes. Beautifully situated on 450 acres of gorgeous Florida landscapes, the community, which was first developed in 1959, manages to represent glamour and swank as well as an unmistakable 'welcome home' feel. Lost tree is a private community with outstanding natural beauty.
Aside from taking part in golf and tennis, the club at Lost Tree Village offers a number of activities and amenities to residents, including yoga and pilates classes, a full-service spa, and the non-denominational Lost Tree Chapel, which holds Sunday worship services during season.
Many of the Lost Tree Village homes are right on the Atlantic Ocean or Intracoastal, including private docks for a boat and breathtaking views. Other homes boast views of pristine landscapes, the golf course, or lake views. All of the North Palm Beach homes perfectly exemplify authentic Florida living.