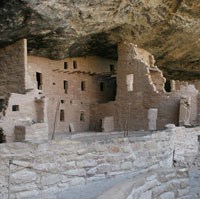 Mesa Verde's ancient architecture and beautiful artifacts have inspired historic and contemporary creative work for years --Crow Canyon Director of Education Kathy Stemmler.
Cortez, Colo. (PRWEB) October 31, 2013
The Crow Canyon Archaeological Center announced today that it will offer a new National Endowment for the Humanities (NEH) Landmarks of American History and Culture Workshop for School Teachers. Entitled "Mesa Verde National Park: Convergences and Crossroads in the American Southwest," the workshop explores significant subjects in American anthropology such as the importance of place, as well as what comprises history and who constructs it. Guided by archaeologists and American Indian scholars, workshop participants will address these topics at one of the world's greatest archaeological preserves: Mesa Verde National Park.
Participating educators will explore Mesa Verde, conduct hands-on archaeological fieldwork and laboratory analysis, and join in on readings, lectures, and discussion groups. Through interaction with American Indian scholars and visits to ongoing archaeological excavations, teachers will learn how American Indians, anthropologists, and archaeologists work together to provide a richer picture of Pueblo history and culture.
Crow Canyon will offer two sessions of the weeklong workshop: June 22–28 or July 20–26, 2014. The workshop is based at the Crow Canyon Archaeological Center in southwestern Colorado, a national leader in archaeological research and education. Participating educators will receive a stipend to cover the cost of travel and living expenses while at the workshop. Dr. Kathy Stemmler, Crow Canyon director of education, will direct the workshop.
"Mesa Verde's ancient architecture and beautiful artifacts have inspired historic and contemporary creative work for years," Stemmler said. "In this workshop, you'll examine not only the ancient past, but also the influences of Mesa Verde on culture today."
Applications for the NEH workshop must be postmarked no later than March 4, 2014. For more information on the workshop, visit http://www.crowcanyon.org/NEHMesaVerdeWorkshop or call 800.422.8975.
About Crow Canyon
The not-for-profit Crow Canyon Archaeological Center, located in Cortez, Colorado, conducts long-term, multidisciplinary research into the ancestral Pueblo Indians of the southwestern United States and provides experiential education programs for adults and children. The Center also collaborates with American Indians on a wide variety of initiatives of mutual interest, including research projects, education curricula and language- and cultural-preservation programs.