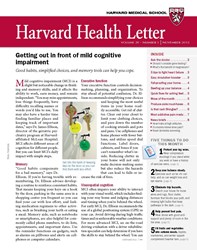 Boston, MA (PRWEB) November 12, 2013
Sometimes the best way to ease pain is with the type of prescription painkiller known as an opioid. Despite their "addictive" reputation in the media, the majority of people use opioids safely and without addition, reports the November 2013 Harvard Health Letter.
Opioids are a class of painkillers with high addictive potential. They include oxycodone (OxyContin), hydrocodone (Vicodin), hydromorphone (Dilaudid), and meperidine (Demerol). Opioids are typically used for the short term, such as for treating severe pain following surgery. They are also sometimes used long-term for relieving pain related to cancer or a terminal illness.
For minor surgical pain or injuries, it's best to limit the use of an opioid to no more than seven days. Using one for more than 30 days leads to dependence. That means a person begins to suffer withdrawal symptoms if he or she abruptly stops taking the medication. With long-term use, some individuals need more of these drugs to achieve the same effect. Keep in mind that dependence is not the same as addiction, which is characterized by compulsive use and preoccupation with the drug that interferes with normal life.
For long-term use, take opioids by the clock as prescribed, advises Dr. Karsten Kueppenbender, an addiction psychiatrist at Harvard-affiliated McLean Hospital. Trying to reduce addiction risk by cutting back on the medication and waiting until the pain gets really bad isn't a good strategy, and can actually backfire. The memory of how bad the pain got, and the sense of relief from the opioid, could actually increase the risk of becoming addicted.
The key to avoiding addiction is the assistance of a medical team that's easily accessible, along with regular checkups to reassess the need for—and use of—the drug.
Read the full-length article: "Caution: These are the most addictive pain meds".
Also in the November 2013 issue of the Harvard Health Letter:

Steps for coping with mild cognitive impairment
The best fruits and veggies for fall
An anti-falling checklist to take stock of trip hazards in the home
The Harvard Health Letter is available from Harvard Health Publications, the publishing division of Harvard Medical School, for $16 per year. Subscribe at http://www.health.harvard.edu/health or by calling 877-649-9457 (toll-free).