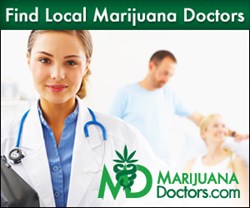 (PRWEB) November 05, 2013
Recognized as one of the nation's first ever online search-and-booking platforms strictly related to the medical marijuana industry, MarijuanaDoctors.com has long been an established and well-reputed compassionate patient support portal. From helping patients to see if they prequalify within their area, to finding a distinguished cannabis-recommending doctor of the highest standing -- the company succeeds as one of the top companies within its respective niche. However, once an article was released in the Boston Globe that depicted the Massachusetts medical marijuana program as a playground for both inexperienced entrepreneurs and internet companies with no medical background, this caused a great sense of concern for MarijuanaDoctors.
Since 2010, MarijuanaDoctors.com has served as the primary web-based portal for patients in legal medical marijuana states. Through this domain, MarijuanaDoctors has proudly paired over 90,000 inquiring and current patients with a doctor who is registered within a respective state's medical cannabis program. Yes, the company does promise to match patients with a physician who is able to write a recommendation and yes, patients will become one step closer to obtaining the medicine they need and deserve. However, through the services that patients are provided with at MarijuanaDoctors.com, there is no compromise of patient care or the safety of that care. This is largely in part because the company consistently performs background checks on each and every one of the physician's that has become integrated within the network.
Unlike any other company that calls itself a true "compassionate" entity, MarijuanaDoctors has both the facts and the statistics to back up the beneficial service it provides. While many companies are working around the edges of the law and merely tip-toeing around a respective state's rules, MarijuanaDoctors is always in consistent compliance with all state regulatory laws and remains completely HIPAA (Health Insurance Portability and Accountability Act of 1996) compliant. The company's mission is to address and uphold the security and privacy of all health data that is collected, ensuring patients that all information is confidential. These implemented standards are designed to improve the efficiency and effectiveness of the nation's medical marijuana industry, straying from that legal "grey area" stigma that has been notoriously widespread.
While some companies claim that patients must fulfill a bona fide doctor-to-patient relationship, this is a claim that often goes unaccounted for -- such as the article reported by the Boston Globe on September 29th. At MarijuanaDoctors.com, patients must establish a bona fide relationship with the cannabis-recommending physician who will be writing out a said recommendation. If this requirement is not fulfilled, patients are not able to receive the medical marijuana recommendation from that doctor. This is a strict requirement because the company must ensure patients that all physicians are complying with the regulations concerning a written certification for medical marijuana, and that patients are receiving quality and safe medical care. Without a physician having the ability to get to know the patient and what condition they possess, how is a doctor supposed to recommend an alternative treatment option?
Rest assured patients of the Commonwealth of Massachusetts and patients of the other nineteen legal medical marijuana states, MarijuanaDoctors will continue to provide only the finest services in alternative healthcare at an unrivaled pace. Each and every day there are patients gravely in need of a reputable doctor within a respective geographic area, and proudly this company can help these patients in a compassionate manner. With a reputation for superb patient satisfaction, MarijuanaDoctors is comprised of a database of over four-hundred participating physicians -- all of which are willing to work with patients, evaluate conditions in a thorough manner and recommend cannabis after establishing a bona fide relationship.