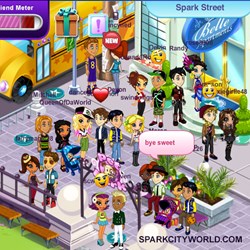 Our Spark City World fan base has made it extremely clear over the past few years: they want boys in the world.
Los Angeles, California (PRWEB) October 30, 2013
Fuel Entertainment today announced the launch of its hotly-anticipated Boyfriends feature within its popular girl-dedicated virtual world and online community, SparkCityWorld.com. Girls are finally going to have the boyfriend of their dreams with the new functionality, including the experience of developing a relationship from friendship through to boyfriend, including dates, buying and receiving presents, and a host of new mini games and features.
"Our Spark City World fan base has made it extremely clear over the past few years: they want boys in the world," said Fuel Entertainment's CEO and creator of the world, Mike Burns. "After many months of hard work creating a safe and amazingly fun way to incorporate boyfriends, we're thrilled to finally be able to offer this new package of content to our incredible community of users."
Like a whole new take on virtual pets, the new Boys of SparkCityWorld.com will appear randomly throughout the environment and open up many new ways for girls to interact and play on the site: starting conversations, learning likes and dislikes, remembering birthdays and giving gifts, developing crushes, all the way to end-of-date kisses...and even break-ups. At launch, boys will appear as one of four style archetypes: jock, hipster, skater, or pop star.
"The users of Spark City World have consistently impressed us with the myriad creative play patterns with the tools we provide them, from throwing real-time parties, to full-blown edited video stories set in our world and posted to YouTube," said Gerhard Runken, VP of Development at Fuel. "We can't wait to see all the fun and innovative ways our fans will have fun with our new boyfriend functionality."
Users will be able to track their friends and crushes through their in-game personal devices, have text conversations, and schedule hangouts all over the virtual environment.
Coming soon in 2014, the world will go mobile, allowing users to take Spark City World anywhere! Games are free to play at http://www.sparkcityworld.com and fully COPPA compliant.
-30-
About Fuel Entertainment
Beginning with vibrant characters and engaging storylines, Fuel Entertainment creates entertainment properties for today's emerging audiences that spark imagination wherever viewers go. As the next generation eagerly embraces a new approach to entertainment, Fuel has established itself as an industry leader, both in the development of revolutionary entertainment technologies and the creation of fresh and original content such as the critically acclaimed Sideway: New York for PlayStation Network, the rapidly-growing tween virtual world Spark City World, and Fairies & Dragons, characters that ran continent-wide in Europe in McDonalds' first digital Happy Meal. With animated and live action television, gaming and digital experiences, Fuel Entertainment has helped its clients and creative partners reach youth audiences seamlessly across both traditional and emerging platforms like never before. Learn more at http://www.FuelEntertainment.com.
About Spark City World
Spark City World is a vibrant and safe online gaming and social environment for kids aged 6-14. Featuring casual gaming, personal avatars, virtual apartments, quests and leaderboards, the world invites girls into an exciting and always-changing play environment. As users participate and explore, they gather gems which can be used on a host of fun in-game items such as furniture, pets, and new clothing packs. The world is tied to Fuel Entertainment's Clik Star characters, who make frequent appearances throughout the environment.