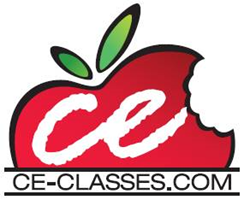 We are thrilled to continue implementation of our training and education solution to Transformations.
Fort Lauderdale, FL (PRWEB) October 31, 2013
CE-Classes.com has announced today that it has been re-awarded a contract by Transformations Alcohol and Drug Treatment Center to provide the center and its employees a Learning Management System. The system which provides ce courses and continuing education also trains employees and in the best practices for healthcare agencies.
Ce-Classes.com helps companies and agencies that provide mental health and/or substance abuse services meet their accreditation and state licensing criteria by providing their employees with the training required by CARF, JCAHO and State Licensing Boards. Administrators can monitor employee compliance with mandatory training with a few clicks of the mouse. Specialized courses can be based on the policies and procedures of their company. Through these courses and trainings, employees can undergo complete training that will improve their job-specific competencies. Moreover, the company has also developed a resource that can help agencies track staff development thereby ensuring compliance for their upcoming audits.
Transformation Treatment Center is a nationally recognized program based in South Florida. The treatment center provides individualized addiction rehabilitation programs to successfully transform an individual's life from one controlled by addiction, to a clean and fulfilling life. There are separate gender specific programs for people under 30, and people over 30, and there are both a 12-step Traditional and 12-step Christian Program.
Transformations has one of the most comprehensive holistic programs in the country. The center uses all natural, individualized supplement protocols for healing the brain and body. This can reduce or eliminate the need for prescription drugs, while reducing the symptoms of withdrawal. Clients receive numerous therapeutic services including individual and group therapy sessions, neurofeedback, biofeedback, and a number of specialty services including trauma therapy, first responder ptsd treatment, Dialectic Behavior therapy, Cognitive Behavioral therapy and EMDR. Nutritional advice is provided from a registered dietician/nutritionist and a private trainer assists the client to get back in physical shape.
"We are thrilled to continue implementation of our training and education solution to Transformations," said Ron Black, president Ce-classes.com. "Our comprehensive system will enable staff to provide the best possible care to all clients of this recognized program."
About CE-Classes.com
CE-Classes.com is committed to helping individuals earn CE credits in the most efficient, easiest, and most cost-effective way possible. For over 15 years, the company has provided online CE courses, Live Seminars and webinars that are approved for various health care professionals for continuing education credits by a number of state and national boards. Ce-Classes.com serves a wide range of licensed professionals such as mental health counselors, therapists, psychologists, nurses, and social workers. Individuals are given the option to choose between purchasing one or two courses or saving money by choosing the Unlimited Online Courses Package for a year.
The CE courses offered are ideal for licensed healthcare professionals.The company possesses multiple accreditations such as American Psychological Association (APA), Association of Social Work Boards (ASWB), National Board of Certified Counselors (NBCC), and National Association of Alcoholism and Drug Abuse Counselors (NADACC). The courses offered by CE-Classes.com are accepted nationwide.