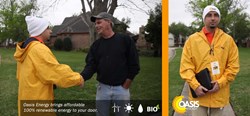 BGE doesn't offer 100% renewable energy and BGE also doesn't allow you the stability of locking in a low fixed rate for an extended period of time. Once consumers understand these facts, it makes the decision to switch to Oasis Energy very compelling
Baltimore, MD (PRWEB) October 30, 2013
Oasis Energy is going door-to-door promoting affordable, 100% renewable electricity plans. The plans include renewable energy from wind, solar, hydro and biomass sources. Oasis Energy will also have traditional electricity and natural gas plans available.
"Oasis Energy's 100% renewable electricity plans are affordable, around the same price as BGE's fossil fuel based electricity plans. Most people don't realize that BGE doesn't offer 100% renewable energy and BGE also doesn't allow you the stability of locking in a low fixed rate for an extended period of time. Once consumers understand these facts, it makes the decision to switch to Oasis Energy very compelling," said Justin Snyder, the National Brand Manager for Oasis Energy.
Clean electricity plans have been around for several years, but now Oasis Energy is breaking the mold and offering them at an affordable price.
Oasis Energy understands many people are cautious when it comes to solicitors, so the company has released the following information to make it easier to identify Oasis Energy reps both by their appearance and actions:
How to spot an authorized Oasis Energy field representative.
The uniform varies depending on the weather. See Photo of Oasis Energy agent in uniform.
1. Bright yellow jacket with an Oasis Energy logo on the left breast pocket.
2. Bright orange polo shirt with Oasis Energy logo on the left breast pocket.
3. White beanie style knit cap, or a baseball cap in black, khaki or white. All hats and caps worn by Oasis sales reps display the Oasis Energy logo in the center.
4. A Photo ID badge on a lanyard. The ID contains the reps name, photo, ID number, and Oasis Energy company information and contact information.
5. Oasis Energy reps will never claim to be from BGE or from the utility company.
6. During the sales process, Oasis reps may ask to see a resident's current utility bill and ask for BGE account numbers, Electric Choice ID, or Gas Choice ID. This allows Oasis to calculate savings, compare the offered rate to the resident's current rate, and to enroll customers with Oasis Energy.
(NOTE: Oasis Energy reps will never ask for personal information such as social security numbers, date of birth, drivers license numbers, or any other personal information not found on the current utility bill.)
Oasis Energy is encouraging community feedback.
"If you have any compliments, complaints, concerns or suggestions regarding our field representatives soliciting in your area, please let us know. If you are concerned about possible scams, individuals impersonating our reps or misrepresenting our company, we certainly want to hear from you. Please feel free to email us at customercare(at)asisenergy(dot)com, call us at 1-800-324-3046 or contact us on social media," said Snyder.
Customers can also check Oasis Energy electricity and gas rates and plans online.
Oasis Energy is committed to giving back to the local communities they serve. Participating in community improvement projects, charity efforts, environmental awareness, and energy efficiency campaigns.
About Oasis Energy:
Oasis Energy is a leading supplier of electricity and natural gas to residential and business customers in New York, Pennsylvania, Maryland and Illinois. By offering competitive pricing on fixed and variable rate energy products, Oasis Energy aims to be a low-cost/high-value provider bringing energy cost savings to customers in every market they serve.
For more information on Oasis Energy's electricity and natural gas service visit: https://www.oasisenergy.com