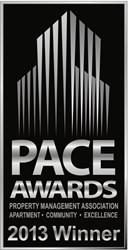 'We are very proud of our onsite teams and congratulate their hard work,' said Loretta Gaegler, Vice President, Equity Management. 'This is the best showing yet for Equity Management. The bar has been set for next year!'
Columbia, MD (PRWEB) October 30, 2013
The Property Management Association honored 9 Equity Management communities at the third annual PACE Awards this month. PACE awards evaluate apartment communities based on their operating efficiencies and ability to deliver customer service and was open to all national capital area apartment communities. The competition included more than 175 communities, serving as home to nearly 90,000 area residents. Categories were based on the average monthly rent of the participants. In addition, the judges were allowed to award special honors for technology integration, environmental sustainability and excellence in management and resident services. Awards were presented to both market rate and affordable communities.
The following Equity Management Communities were recognized by the judges:
3Tree Flats, Special Award (Best Green Community, Washington, DC)
Ellicott Gardens, Special Award (Best Green Community, Maryland)
Potomac Woods Senior, Winner, Affordable Rate Community, Virginia
The Station at Potomac Yard, Judge's Choice, Virginia
The following communities were awarded the Distinguished Community Award for scoring 95 points or higher in the judges' evaluations:
Clinton Manor
Drings Reach
Morningside Park
Edinburgh House
Francis Scott Key Apartments
"We are very proud of our onsite teams and congratulate their hard work," said Loretta Gaegler, Vice President, Equity Management. "This is the best showing yet for Equity Management. The bar has been set for next year!"
Equity Management is a leading property management firm, specializing in affordable housing in the mid-Atlantic area with over 9,000 units under management in 7 states. The firm was recently recognized as the 57th largest manager of affordable housing by NAHMA (National Affordable Housing Management Association). This is the 5th consecutive year Equity Management has been named to the Top 100 list. Equity Management has experienced rapid growth and has a wide range of management services to help investors meet their needs.