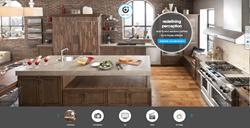 The Shadowlight Group is working to change the perception of the commercial photography industry through our client-focused visual solutions.
Leola, PA (PRWEB) October 30, 2013
Over the past 13 years the Shadowlight Group® has honed its special ability to bring clients' visions to reality through creative photography, videography, CGI and award-winning set design services. Now the innovative, full-service visual solutions company is unveiling its new brand and website focused around the tagline redefining perception.
"The Shadowlight Group is working to change the perception of the commercial photography industry through our client-focused visual solutions," said Phil Hiestand, President of Shadowlight Group and Shadowlight CGI. "We do this by partnering with brands and helping them bring their products to life by combining their goals and our visions to create an outstanding end product. We are continually pushing the boundaries of innovation and wanted our brand to represent the same creative spirit. Our expanded service offering reflects our commitment to our clients."
Located near Lancaster, Pa., within two hours' drive of major East Coast design centers, Shadowlight's 125,000 ft² megastudio features a variety of on-site amenities, including a multi-million dollar prop inventory, multiple full bay delivery docks, more than three dozen stock sets, a commercial-grade food styling kitchen and a 2,000 square foot carpentry shop.
The Shadowlight Group boasts a team of in-house artisans including award-winning commercial and product-oriented photographers who specialize in home and lifestyle-focused photography. Through their in-house design group, Shadowlight's clients receive personal creative design and on-set art direction, backed by National Kitchen and Bath Association (NKBA) certified interior designers. And Shadowlight's team of highly skilled carpenters have a combined 50+ years of finished carpentry, custom tiling, woodworking, painting, glazing, masonry and cabinet making experience.
Among its many multimedia features, Shadowlight's newly designed website includes image galleries, artisan biographies and examples of their award-winning work, an online database of available rental sets, and a virtual tour of Shadowlight's state-of-the-art facility. Clients and prospective clients will find additional content on trending, client projects and more on their branded blog where you can sign up for their monthly eNewsletter.
In addition to its newly launched website, Shadowlight also engages consumers on its Pinterest page with boards that focus on current interior design trends; perspectives on color, shape and lighting and how it can be used in design; and individual photographer boards featuring unique viewpoints and creative direction.
Shadowlight's Facebook page provides a behind-the-scenes glimpse at how they create award-winning imagery and focuses on how they bring their clients' brand stories to life. The Shadowlight Group boasts a client portfolio of industry leading consumer brands, including KitchenAid®, Jenn-Aire®, Lowe's®, Electrolux®, Delta® and Frigidaire®.
About the Shadowlight Group
Shadowlight is a full-service visual solutions company that specializes in bringing clients' visions to reality. For more than 13 years, Shadowlight has pushed the boundaries of innovation through the marriage of set design and construction, photography, videography and CGI services that consistently produce award-winning imagery. Centrally located in Leola, PA, Shadowlight's 125,000 square foot studio is less than three hours from all major East Coast hubs and is easily accessible via Amtrak and major driving routes.
For more information about the Shadowlight Group, visit http://www.shadowlightgroup.com.