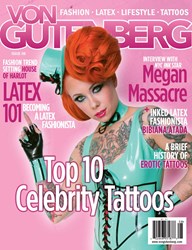 Joining forces with Megan Massacre, making her our cover girl and featured model was a unique privilege!
New York, NY (PRWEB) October 31, 2013
Sporting a candy-pink background and TLC star Megan Massacre on its cover, Publisher Erik von Gutenberg releases issue # 8 of his international Fashion Magazine. Megan is the star of shows "N.Y. Ink" "America's Worst Tattoos" and the go-to model/personality when it comes to modern tattooing.
"Joining forces with Megan Massacre, making her our cover girl and featured model was a unique privilege. Shooting her in our studios as well as in classic locations like New York City's famous "Trash & Vaudeville" clothing store in the East Village truly set the tone for this Tattoo Issue," Erik declares.
2013 saw enormous strides in the Von Gutenberg publishing world. There was the complete digitization of all Von Gutenberg issues, the publication of the company's first eBook (All The Word's A Rage) and the further reach of global distribution Erik has always strived for with his Fashion Magazine. Panama, Singapore, Brazil, Mexico and Hong Kong have been added to the list of countries that now carry Von Gutenberg Magazine.
This fall/winter issue of the Latex Couture quarterly also features models Bibiana Atada from Switzerland and Germany's Onna Sakura as well as others, plus the usual seductive photo features, this time from world renowned photographers like Phillip Faith and Florida's Antonio Angelo Piracci.
Robin Archer's House of Harlot, Austria's Mad Duck Designs and Louis Fleischauer's AMF Korsets from Germany are the designers in issue eight. All three Fetish Fashion Houses create custom designed Couture for the discerning lifestyle-ing fashionista and have had seen their creations enveloping and empowering many of the Von Gutenberg models throughout the five years of the magazine's existence.
This Tattoo themed issue also reveals some lush Fantasy Art from Von Gutenberg regulars Armando Huerta and Fang Ling Lee, the usual round-up of the past years' global Lifestyle and Fantasy Events, plus Fiction and Articles.
"With all modesty I must say this is the best Von Gutenberg Magazine yet…though I say that at the publication of each new issue of course," Erik adds with a chuckle. "What we all strive for is to better the Magazine each time out and in issue eight I feel we have brought it all together; specific Latex Fashions from such well respected designers, lifestyle reporting, writers and artists and of course our one-of-a-kind models…with a bona field T.V. star leading the way!"
About VonGutenberg.com :
The mission of Von Gutenberg is as tasteful as it is simple…to provide elegant interaction and luxurious expose for the global lifestyle community interested in latex fashion. As the world's leading high-end luxury niche brand Von Gutenberg strives to empower the feminine mystique by presenting ever divergent points of view and forever championing the many artisans who work tirelessly to reveal their unique visions to the world.
Be it through the models features, the many advertisers and affiliates the magazine works with, the writers, photographers, artists and the many behind-the-scenes crew of make-up and hair artisans who lend their talents, the Von Gutenberg portal unfurls a multi media canvas that consistently proves to be the authority for consumers, fans and fashionistas with a special taste.
Von Gutenberg Magazine issue 8 is available in Stores around the Globe, the Von Gutenberg Online Shop and for Mobile and Tablets at Apple iTunes, Google Android and Amazon for download:
Apple:
https://itunes.apple.com/us/app/id559950917?mt=8
Android:
https://play.google.com/store/apps/details?id=com.vongutenberg.vongutenberg
Amazon Kindle:
http://www.amazon.com/s/ref=nb_sb_noss_1?url=search-alias%3Dmobile-apps&field-keywords=von+gutenberg